Poached Chicken and other stories (with Tarragon Mayonnaise)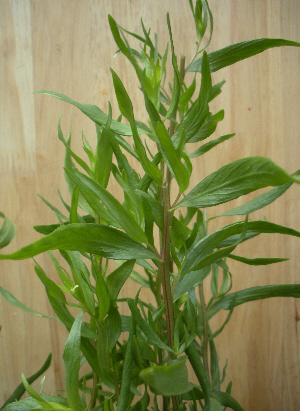 This has been the summer of the poached chicken. It started when the weather got hot in June and I had a chicken to cook. It wasn't exactly turn-the-oven-on time so I landed it into a big pot, covered it with cold water, threw in some vegetables and herbs and let it barely simmer away for an hour. The chicken, after cooling in its cooking broth, was moist, juicy and beautifully flavoured. We ate it for dinner that night, with lots of salad, new potatoes and a bowl of homemade Tarragon Mayonnaise, devoured leftovers in sandwiches for the next day's lunch, and the remnants made their way into a risotto, made with the cooking broth.
Poached chicken has now become a kitchen standby, no matter what the weather. While it might not look very attractive (hence the picture of tarragon!) after it emerges from its waterbath, skin all wrinkled and saggy, just slip it off and carve before presenting it at the table.
One thing: you absolutely have to use a decent chicken. I often pick up an Irish free range one from Aldi (costing about €5.99) and it's perfect for this recipe.
Poached Chicken with Tarragon Mayonnaise
You can choose any combination of vegetables and herbs to flavour the stock. In the past I've used a lime instead of lemon, a sprig of lovage instead of the celery, and parsley or thyme with, or instead of, the bay leaves. Do make sure that the chicken is underneath the liquid, putting a plate on top of it if necessary. Reserve the stock for next day risotto or freeze it for autumn soups.
Free range or organic chicken – 1.5kg approx
Celery – 1 stalk
Carrot – 1, peeled
Onion – 1, peeled
Lemon – 1
Cloves – 2
Peppercorns – 1 teaspoon
Whole coriander – 1 teaspoon
Bay leaves – 2
Tarragon Mayonnaise:
Egg yolks – 2
Salt – ½ teaspoon
Smooth Dijon mustard – ¼ teaspoon
Fresh lemon juice – 2 tablespoons
Sunflower oil – 175mls
Extra virgin olive oil – 50mls
Chopped tarragon leaves – 1 tablespoon
Rinse the chicken, put it into a large saucepan and cover with cold water. Roughly chop the celery, carrot and onion, cut the lemon in half, and add to the pot with the remaining ingredients.
Bring slowly to the boil, skim off any white froth that rises to the top, then simmer very gently for an hour, until the chicken is cooked through and no trace of pink remains at the bone. Remove from the heat and allow to cool in the stock.
Meanwhile, make the Tarragon Mayonnaise. Combine the egg yolks, salt, mustard and lemon juice in a bowl. Add the oils, a drop at a time, while whisking vigorously. The mixture will start to thicken after a couple of minutes and you can start to add the oil in a thin stream. Don't be too generous as the yolks will only absorb the oil at a certain rate. Add the tarragon, taste and season, adding more lemon juice if necessary. If the mayonnaise is too thick, whisk in a couple of spoonfuls of the chicken stock.
Lift the chicken from the liquid, remove the skin and carve. Serve warm or at room temperature with dollops of Tarragon Mayonnaise, a selection of salad leaves, tomato salad and boiled new potatoes.
Serves 4-6 (or 2½, with a lot of leftovers).