Feijoa frenzy: Feijoa and Apple Crumble
It's feijoa season! And what, you may ask, are feijoas? The first time I saw apple and feijoa juice for sale, not long after I arrived in New Zealand, I had no idea what it was. But, when the Boyfriend – apparently a feijoa fan – ordered it, I made sure that I got a taste. It was a pleasantly refreshing drink with a strong flavour of apple but there were tropical undertones that I did not recognise. The hallmark of the feijoa, apparently, which has its own unique taste.
Intrigued, I did a little bit of research on feijoas and discovered that they're not indigenous to New Zealand but instead were brought here in from South American in the 1920s. The trees thrived and now New Zealand, along with California, is one of the few places that the fruit are grown commercially.
After I realised that autumn was the season for fresh feijoas, I've been keeping an eye out for them and, last weekend, I was intrigued to discover some green, egg-shaped fruits in the St Albans Market – they looked like small hairless kiwi fruit, although a different colour. I inquired of the stall owner as to what they were and discovered that these actually were the legendary feijoas. Priced at NZ$3 per kilo bag, I wasn't going home without them so I handed over my money and headed back to the wee house. The Boyfriend was very excited when I told him what I'd bought and he tackled several immediately. You eat feijoas just the same way you do kiwi fruit – or boiled eggs – cutting them in half and using a teaspoon to dig out the flesh.
I have to say that I wasn't hugely impressed with my first feijoa but since then, and seeing as we had a large bag to get through, I started to like them. They have a curious flavour, which is difficult to describe, although the American name for them – pineapple guava – does go some way towards summing up what the taste.
Last night I was having a few friends for dinner so I decided on crumble as the desert of choice. It's one of my favourite things to cook when people are coming round as it is one of those dishes that can be prepared in advance. All you have to do before sitting down to the main course is put the crumble on top of the fruit and land it in the oven. Normally I'm a big fan of Plum and Apple Crumble but, it being feijoa season and all, I decided to make a Feijoa and Apple Crumble. It turns out that feijoas – which can be bitter if unripe – take very well to crumble cooking. The flavour was much more developed by the heat and they married exceptionally well with the Braeburn apples that they were mixed with. It might be difficult find the feijoas for this exact recipe elsewhere in the world so I won't mind too much if you feel the need to substitute plums.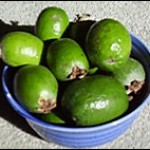 Feijoa and Apple Crumble
Feijoas – approx 200g
Apples – approx 500g
Sugar – approx 2 tablespoons, depending on how tart your apple is
Allspice – 1 heaped teaspoon
Plain flour – 100g
Butter – 150g
Porridge oats – 100g
Demerara sugar – 100g
Salt – a pinch
Preheat the oven to 375°F/190°C. Cut the feijoas in half and scoop out the flesh. Peel, core and chop the apples. Mix the fruit together in a deep pyrex dish with a capacity of approximately 1.5 litres. Sprinkle with sugar and allspice and toss. Place in the oven to soften for 10 minutes while you get the crumble topping ready.
Rub the butter into the flour then add the oats, demerara sugar and salt and mix well. If you're ready to cook the crumble – but not beforehand – sprinkle the topping over the fruit, ensuring that it is well covered. Place in the oven and cook for 30-40 minutes until juices are bubbling around the edges and the crumble is brown and crisp.
Serve hot or warm with greek yoghurt, cream or crème fraiche.