Moroccan-style Bread and Butter Pudding: Chocolate Bread and Butter Pudding with Turkish Delight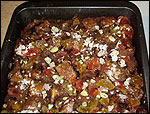 When I was a kid, Bread and Butter Pudding was the desert that we all loved. I wasn't too impressed with other traditional milk puddings like Farola or semolina and often would walk away from the dinner table with my pockets full of secreted spoonfuls rather than actually eat a bowl of the insipid stuff.
But Bread and Butter Pudding was another story. I always seem to remember it being made in an enamelled dish. My mother used to scatter plenty of sultanas through the buttered bread slices before she poured over the eggy milk. My job, at that age, was to poke the bread down into the milk and ensure that it got as soggy as possible before it was sprinkled with sugar and whisked into the oven. That day I would even try to eat up my potatoes (another childhood foodstuff that usually got the same treatment as Farola and semolina) before tucking into a bowlful of the Bread and Butter Pudding. I loved the combination of the crunchy sweet topping and soft custardy interior, studded with plumped-up sultanas.
Although I have tried my hand at savoury Bread and Butter Puddings, it's been years since I had a sweet one. Then I came across a recipe for a Chocolate Bread and Butter Pudding with Turkish Delight in Greg and Lucy Malouf's Moorish. Their recipe brought Bread and Butter Pudding right up to date, putting a decadent spin on what used to be a wholesome desert. Could I resist? Not at all. When we had the Boyfriend's sisters and cousins round for a Moroccan meal one night I decided that this was going to be the piece de resistance and it didn't leave me down. As I was chopping pistachio nuts for the couscous that night I added a handful of them to the topping for another layer of crunch. It's a very rich desert so be sure and serve it in small portions. To really gild the lily, you can accompany it with some softly whipped cream.
Chocolate Bread and Butter Pudding with Turkish Delight
Good quality dark chocolate – 150g, broken into pieces
Cream – 210ml
Milk – 210ml
Rum or brandy – 4 tablespoons
Caster sugar – 110g
Butter – 75g, cubed
Ground cinnamon – a pinch
Eggs – 3, large
Stale white bread – half a loaf, 400g approximately, cut into 2cm cubes
Rose or orange-blossom flavoured Turkish delight – 100g, chopped
Pistachio nuts – 50g, chopped
Place the chocolate, cream, milk, rum or brandy, sugar, butter and cinnamon into a bowl over a pan of simmering water. Without stirring, allow the chocolate and butter to melt and the sugar to dissolve. When melted, stir well.
Whisk the eggs in a separate bowl and, still whisking, pour the chocolate mixture on.
Lightly butter a 18cm by 23cm ovenproof baking dish. Cover the base of the dish with a layer of the chocolate custard then tip in the cubed bread. Pour the remaining mixture over, ensuring that all the bread is well coated.
Cover the dish with clingfilm and allow to sit for a few hours at room temperature. Refrigerate for at least 24 hours or up to 48 hours.
Preheat the oven to 180°C/350°F. Remove the clingfilm and sprinkle over the pieces of Turkish delight and pistachio nuts. Bake for 30-35 minutes until the top is crunchy but the centre should still be soft. Allow to stand for a few minutes before serving with lightly whipped cream, flavoured with a few drops of orange-blossom water, if desired.
Adapted from Moorish by Greg and Lucy Malouf.