Traditional – but with a twist: Date Scones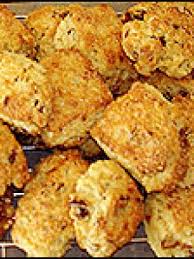 My mother makes the best scones. There's always a carton of cream in the fridge to add lightness to the eventual product, which, when I come home, are often piled high on the wire rack to cool, large, golden and flecked with sultanas. They're the kind of scones that you can't resist eating warm from the oven, with plenty of melting butter. Travelling back to Dublin after the weekend there's often a bag of them stuffed into my bag. A couple for eating on the train and several more to be toasted and enjoyed at a slightly later date.
Because Mum is the queen of the scones, it's never something that I've had to be good at. As a result, perhaps, I've never had her hand for lightness either. Recently, reading Stephanie Alexander's The Cook's Companion, I came across a recipe for Date Scones which captured my imagination at once. On the next available baking opportunity I made up a batch but, to my sorrow, they remained rather flat and hard. It has to be said that they were very tasty though and, not one to let a failure stand in the way of experimentation, I attempted a second batch – this time with another scone recipe – at the weekend.
Although my Date Scones didn't rise as much as my mother's versions – I really must quiz her about her recipe! – they were much more successful that the first lot. Rather than cut them into neat circular scones, I just put the whole piece of dough onto the baking tin and cut it into rough squares before landing the whole thing in the oven. I really must stress that the nutmeg needs to be freshly grated. It's not difficult to buy a whole nutmeg and grate it yourself and the taste and scent are incomparable to that of a regular packet of ground nutmeg, complementing the dates remarkably well.
Although a little sweet, these Date Scones are also fabulous with slices of good mature cheddar cheese. The crumbly Dubliner was my budget cheese of choice in Ireland and Mainland's Vintage is a good substitute in New Zealand.
Date Scones
Self-raising flour – 225g
Salt – pinch
Butter – 75g
Light brown sugar – 40g
Dates – 100g, finely chopped
Nutmeg – ½ teaspoon, freshly ground
Buttermilk – 2 tablespoons
Egg – 1
Preheat the oven to 220°C.
Sieve the flour and salt into a large mixing bowl. Rub in the butter until the mixture resembles fine breadcrumbs. Add the sugar, dates and nutmeg and mix well. Beat the egg in a bowl with the buttermilk . Add the liquid to the dry ingredients and mix into a soft dough.
Pat and roll out until 1″/2cm thick and cut into your desired scone shapes. Place on a greased ovenproof tray, brush with egg, buttermilk or milk and sprinkle with some light brown sugar. Bake in the preheated oven for 12-15 minutes until golden brown.
Best split, buttered and eaten while still warm.
Makes 12 scones.