Eat Local Challenge: Spanakopita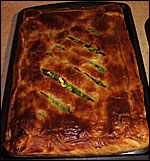 There are so many things that you can't go near when you're trying to Eat Local. I had written this piece about Spanakopita ever before I started this challenge but, pressed for choice on Saturday night, it was something I happily turned to. I had spinach and onions from Canterbury, feta from Karikaas, ricotta from Zany Zeus (North Island but still New Zealand!), nutmeg, couscous for the accompanying salad and local free-range eggs from Piko, our brilliant local wholefoods/organic shop but I must admit failure with the pastry, which was Australian. If I had been a bit more organised ahead of time I could have made my own but still, it didn't turn out too badly!
When I was in college in University College Cork, one of our greatest treats was to go out for dinner to the Quay Co-Op. As well as a wholefood and organic shop, rather like Piko, it was also our local vegetarian restaurant. Although none of us were in any way inclined towards giving up meat, we all loved the food (good and filling), the prices (very reasonable) and the fact that they welcomed you bringing your own wine. I think there was a ridiculously cheap corkage of about £2 (this was way back in pre-Eurofication times) and we took full advantage of it for birthdays and other celebrations. I can even remember a party of us turning up with a bottle of wine apiece on Holy Thursday to do our pre-Good Friday drinking in comfort.
One of the dishes we most loved was their Spanakopita – a Greek dish of spinach and cheeses, enclosed in a delicate filo pastry case. One member of the group, who particularly had a weakness for this particular dish, prevailed on the chef on night to give her the recipe. It was something we often cooked for parties or get-togethers while we were in college and, especially as I have a spinach-loving boyfriend, I have regularly made it since then.
Sometimes it can be difficult to get your hands on filo pastry – and not so easy to manage – so, among other things, I have adapted the recipe to use a puff pastry crust. When made with puff pastry it really is a most obliging recipe, always happy to be made well before it is needed and sit around to be cooked at the last minute. I'm sure it wouldn't even mind being frozen for a while and cooked direct from the freezer, although I have not yet lived with a freezer big enough to take a whole Spanakopita. Besides, if the Boyfriend sees that I'm making it, there's no way that I would be allowed to save it for too long.
A word about feta cheese before I move on to the recipe. I always cut it into small cubes and fold it through the spinach and cheese mixture at the end as I like getting little pieces of it scattered throughout the dish but you can blend it more thoroughly, if you like. Also, always taste your feta before adding it. The cheese I used in Ireland was much saltier than the feta I find here so you may need extra salt to compensate. Don't forget to season the spinach and cheese mixture well. It is too late to be thinking of adding seasoning when it is cooked. In the summertime I normally serve this with a salad of diced vine ripened tomatoes and red onions, tossed with balsamic vinegar, and either tabbouleh or some variation on a couscous salad.
Spanakopita
Puff pastry – two large sheets
Spinach – 1 x 300g bag
Ricotta cheese – 200g
Onion – 1, finely chopped
Eggs – 2 plus 1 for glazing the Spanikopita
Freshly grated nutmeg – ¼ teaspoon
Pine nuts – 25g, toasted
Feta cheese – 150g, cubed
Sea salt, freshly ground black pepper
Preheat the oven to 200°C and place a baking sheet in the oven to heat.
Roll out half the puff pastry and line a swiss-roll tin with it. Wash, dry and chop the spinach then combine it with the ricotta cheese, onion, eggs, nutmeg and seasonings. When well mixed, fold in the cubed feta cheese and put the mixture into the lined tin.
Roll out the rest of the pastry to make a lid and, using beaten egg, stick the layers together. This is when you can put the Spanakopita aside, leaving the glazing and baking until later.
Brush with more beaten egg and cut three slits into the top of the Spanikopita. Place into the oven on top of the hot baking sheet – to ensure that the base of the Spanakopita is cooked – and cook for 40-50 minutes until well-risen and golden brown.
Serves 4-6.