Potatoes – the whole sorry story…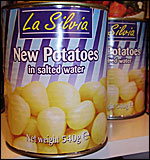 Anyone who knows me is well aware of the fact that I do not like potatoes. I am not a fan of the mashed potato, nor do I like boiled potatoes, potato cakes, potato croquettes, potato salad, baked potatoes or potato gratin. I avoid any dish which involves the word aloo in Indian restaurants and I don't like potatoes even if they are disguised as Shepherds Pie or hash browns or slipped into a soup or stew. In short, you may say, that I detest the common spud. The only two potato-based products that I do eat are chips, not wedges (too potato-y), and crisps, preferably Tayto Cheese & Onion, although I also have a sneaking, if unpatriotic, fondness for Walkers Ready Salted crisps.
This dislike of potatoes, the staple of Irish dinners, goes back into the distant past. My mother, despairing that her eldest child refused to eat most health-giving foods – at different stages I wouldn't touch vegetables or any sort or meat – entered into a battle of wills with me at an early age. My dinner, including a portion of the hated potato, would be put in front of me and I would not be allowed to leave the table until I had eaten it. Of course, being a terribly stubborn kid (poor Mum!), I would sit there…and sit there…and sit there…and sit there. This sitting for long periods in front of the loathed potatoes did nothing to improve our acquaintance. As a result, even though I now eat and relish all the other things that I wouldn't touch when I was small, there's still one big exception – the potato.
This causes some difficulties when the Boyfriend and I are invited to dinner. "Is there anything you don't eat?" we are asked. My reply: "I'll eat anything – except for potatoes" always seems to cause consternation. Of course these days there are a plethora of starchy foodstuffs – rice, pasta, noodles – that have replaced the potato as the main carbohydrate of choice in Ireland but my non-spud eating seems often to be the cause of some hostess heartache (my mother would empathise). In New Zealand the reaction is even funnier. "But you're Irish!" is the normal exclamation, "you all eat potatoes, don't you?" The Great Irish Famine in Ireland, caused by the potato blight in the late 1840s, has indelibly marked the Irish as potato eaters, despite the fact that a lot changes in 150 years.
It's not like I haven't tried to eat the damn things. A spoonful of gratin at a friend's house, some of the smaller wedges ordered by the Boyfriend, a couple of curried cubes in an Indian samosa – none of these made any real difference. But, a few weeks ago at the Mediterranean Food Company and Café's Tapas Evening, I actually ate – and enjoyed! – potatoes. Chef Nik had prepared a simple Potato Tortilla. Just garlic, red onion, free-range eggs and diced tinned new potatoes from Spain, warm from the oven, and served with Salsa Romesco. I took my plate with very mixed feelings. Would it be all right to be polite, just tasting a little, and then ignore the rest of the serving?
I dug my fork into the narrow tip of the slice of Tortilla, daubed it lavishly with the salsa, and put it in my mouth. No immediate gag reflex, a nasty childhood side effect to being made to eat potatoes, was a good sign. I chewed slowly, very thoughtfully and swallowed. My, that did taste good. The cubes of potato were firm, almost al dente, and the texture was far removed from my long-ago memories of lumpy mashed potatoes or the glutinous butter- and milk-rich pandy, a kind of potato puree that my Gran used to mash up in an effort to get me to eat. Before I knew it, my fork was moving of its own accord back to the plate. Suddenly, the piece of Tortilla, which had seemed so large and imposing at first, was nothing but redundant crumbs and a happily satisfied stomach.
But that wasn't all. A few dishes later, Nik made a Marinated Squid and Potato Salad, tossed with aioli and capers. Potato Salad is another of my absolute no-nos but, when Nik landed a portion on my plate and asked me to taste for seasoning, I had to repeat my earlier performance. Even in this guise, the potatoes (again, tinned new potatoes) tasted good matched with the slightly chewy fried squid and bitter-salt capers, especially as they still retained a little heat from the preparation. Nodding to Nik that the dish was good, just the way it was, I finished my salad with satisfaction.
At the end of the night, as I went to pay my $20 for the evening, I picked up a couple of tins of those exceptional potatoes and carried them home with pride. They're still sitting, quite happily, in my pantry but I have every intention of actually cooking a Tortilla of my own in the near future. It's the only way to prove my new-found interest in potatoes to a disbelieving Boyfriend and family!