Meme: The Best in the Last 30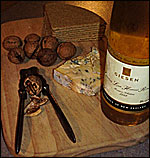 Barbara at Auckland-based Winos and Foodies has tagged me for the foodie leg of Basic Juice's meme with two tails – The Best in the Last 30. You can read more about the meme here. Basically, the idea behind it was to write about the most wine-friendly dish I had eaten over the past month.
To be honest, I am not a very discriminatory wine drinker. I've always figured that I spend enough money on food without going overboard on the wine. I do enjoy a good wine but I'm afraid of learning too much about it and spoiling my palate for cheap bottles! There's plenty of time to get properly involved with wine in a slightly more monied future.
Having said that, I have been hording a little bottle of Giesen's Canterbury Late Harvest Riesling Reserve 1999 for the last six months after embarking on a fantastic food and wine tour with Vin de Pays. Twisting the rules of the meme a little, I decided that I could test it with some food and write about that.
That in mind, I trotted off to Canterbury Cheesemongers for some blue cheese recommendations. After a couple of tastings, I came away with a delicious sliver of Windsor Blue from Whitestone Cheeses in Oamaru. Partnered with some Scottish oatcakes – a rare treat in New Zealand as they're quite expensive – and some of the wild walnuts (I finally got a nut cracker!) that I bought at the farmers' market in Lyttelton, I had a feast fit for a (not so hungry) queen.
Not having a whole wine vocabulary at my disposal, I'll just say that the pairing of intensely creamy blue cheese and sweet – but slightly acid – wine was successful. The freshly cracked walnuts were a lovely addition but the oatcakes were too sweet and crumbly to be a good contrast. In future – if this is to happen again! – I'd use plain water crackers instead.
Later: I've just been reminded that I've to tag a pair of fellow bloggers so I name Plum at My Favourite Plum for the food leg of things and green LA girl for the wine angle. Best of luck!