Zarbo Zest by Mark McDonough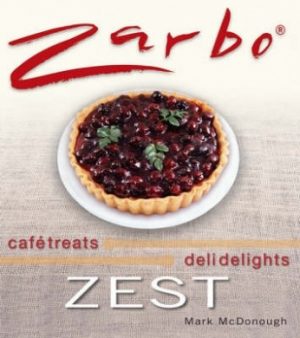 New Zealand cafés do fantastic salads and whenever my tastebuds need a kick and I'm looking for an unusual salad recipe, I turn to former café owner (now cookbook writer) Julie Le Clerc or one of Mark McDonough's Zarbo books. Zarbo is a popular Auckland-based delicatessen, fresh food store and café. The name is familiar throughout New Zealand from being emblazoned on its own range of dressings, marinades, rubs and chutneys. The shop also stocks an exceptional range of imported food products, meaning – if you're in Auckand, of course – that you'll never be stuck for any of the ingredients mentioned in Zarbo Zest.
The inspirations for Mark's recipes come from both near and far – the exotic flavours of North Africa and, even closer, Asia; the fresh produce of New Zealand; more familiar food from Europe. Another thing that inspires him is the balance between work and life. His recipes are all workable for the time-poor generation with homemade smoothies and muesli for the busy weekdays and homemade jams and brunch dishes for more leisurely weekends.
Mark has some intriguing combinations of flavours and techniques – Kaffir Lime Leaf Marmalade, for instance, and Gravlax with Coriander Root and Szechwan Pepper or Pumpkin, Orange and Bay Jam. He has a section on dressings which gets full marks for a homemade version of Thai Sweet Chilli Sauce but it is a little disappointing that he doesn't clarify which dressing goes best with what.
That aside, Zarbo Zest is an inspiring and approachable cookbook with plenty of mouthwatering dishes for every occasion. Now, if only I could get back to New Zealand to see the café itself in action…
Zarbo Zest by Mark McDonough is published by Random House New Zealand. Thanks to the publishers for the review copy.