A wander round the west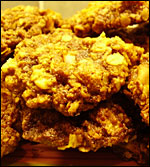 Our first weekend of the year under canvas couldn't exactly be called an unqualified success. We did actually remember to pack the sleeping bags (and Anzac Biscuit morale) but, despite such forethought, it wasn't exactly the weather for camping in the west of Ireland. The heavens opened early on Sunday morning, raining us off Achill Island and we had to retreat to an old-school bed & breakfast in Westport back on mainland Mayo. At least we managed to have a cold, but fine, Friday night breaking our journey at the ever-reliable Lough Ree campsite in Ballykerran, near Athlone before moving on to the beautiful-on-a-fine-evening Seal Caves Park in Dugort on the north side of Achill Island. We cooked dinner outdoors on our little gas burner – a typical simple one-pot camping meal of Clonakilty Black Pudding, roughly chopped mushrooms and baked beans – and drank red wine in the still-warm late evening sunshine, feeling like summer had finally arrived.
When we went to bed on Saturday it was a glorious night, clear skies and stars overhead. Alas, after about six hours rain on Sunday, it was time to abandon our damp and wind-buffeted tent. Still, bad weather allows for some investigation of local hostelries and eateries and there was surprisingly good pickings on our ramblings.
Saturday: The Left Bank Bistro, Athlone
The Left Bank has the good fortune to be a stones throw from a quirky and really rather wonderful secondhand bookshop in Athlone where I was fortunate enough to pick up a copy of Monica's Kitchen by Monica Sheridan as well as a first edition of Maura Laverty's nostalgic Full and Plenty. That business completed, the Boyfriend and I had only a little time for a light, but tasty, lunch in The Left Bank Bistro. Still cold after the night's camping, I chose Leek and Mushroom Soup, accompanied with homemade brown bread (€4.50), and kept stealing little balls of delicious Boilie Goat's Cheese from the Boyfriend's open focaccia sanwich (€7.50). A pair of quality coffees and we were on the road, in early summer sun which, although we weren't to know it, was not to last.
Sunday: The Beehive, Keel, Achill Island
After packing up the tent in the rain on Sunday morning, the calm, relaxed interior of The Beehive was balm to a pair of bedraggled ex-campers. Soup was the unanimous decision, this time a bowl of rich Roasted Red Pepper and Tomato alongside a pair of hearty brown scones (€4.50 apiece). A range of salads looked good but didn't tempt as the rain continued to pour outside and we remained warm and dry, finishing up with an intensely chocolaty Black Forest Gateau (for him) and, for this crumble lover, a very more-ish Blackberry and Apple Crumble (€4 each).
Sunday night: The Wyatt Hotel, Westport
With hostels everywhere booked up, we knocked on the door of a B&B near Westport railway in desperation – neither of us being fans of the quirky Irish B&B – and managed to snaffle ourselves one of the last remaining rooms in town. The rain continued to fall in biblical proportions as we dried ourselves out, all the better to get drowned again while roaming the town looking for dinner. A chance glance at the bar menu posted outside The Wyatt Hotel in the centre of town and the Boyfriend was immediately drawn to the Irish beefburger (€9.95) while my attention was taken with the braised lamb shank on offer (€12.95). The bar was considerably more comfortable than many restaurants, the staff – unusually – was both Irish and friendly and house wine was on offer for €17. I'm not sure what exactly it was but it sure beat the hell out of those ¼ bottles that are normally the only wine on offer in bars throughout Ireland. Both dishes were very much a cut above standard pub grub and, as we finished our meal, a semi-traditional session started off at the end of the room. We didn't move for the night. It's not often that you get such good food, drink and entertainment all in the one spot.
Even an over-cooked, very solid cooked B&B breakfast the following morning couldn't dent our good impressions of eating in the West. And when the meal was accompanied by our voluble landlady discussing May Day traditions and piseogs (customs), sure you couldn't fault it too much!
Places to eat en route to or in the West of Ireland:
The Left Bank Bistro – Fry Place, Athlone, County Westmeath
The Beehive – Keel, Achill Island, County Mayo
Wyatt Hotel, The Octagon, Westport, County Mayo
Places to camp:
Lough Ree (East) Caravan & Camping Park – Ballykerran, Athlone, County Westmeath
Seal Caves Caravan & Camping Park – The Strand, Dugort, Achill, County Mayo