Dukkah by post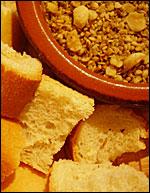 For the last round of European Blogging by Post, I decided to make some Dukkah to include in my parcel for Petula in Italy. An Egyptian blend of coarsely ground nuts, spices and salt that you eat with pieces of crusty bread dipped in olive oil, I had never come across Dukkah before going to live in New Zealand last year. There it is often available at the many weekend markets dotted around the South Island and many food producers – Wild Country, elgani, Attitude Foods – make their own particular variation.
Back in Ireland, I was suffering from Dukkah deprivation so, inspired by Claudia Roden (again!), I used her recipe to make this version. Rather than dig my weighing scales out of the press, I used a normal teacup to measure the ingredients in the proportions that Claudia suggested.
You can make Dukkah in a food processor but, if so, be careful that it doesn't turn into a moist paste. What you're looking for is a rough texture so you don't have to grind the hazelnuts, in particular, too finely. I made good use of the Boyfriend's skill with a pestle and mortar, him grinding as I closely watched the nuts, seeds and spices roasting in the frying pan. It's much too easy to walk away, just at the wrong moment, and end up with a burnt mess.
The proportions below make about six cups of Dukkah but it keeps well in an air-tight jar and is really good tossed with green leafy salads, sprinkled over melted cheese on toast, on roasted vegetables or with dips like hummus or yoghurt. I've also used it a few times to revitalise sad-looking pita breads. Just cut the breads into strips, brush with olive oil and sprinkle with liberal amounts of Dukkah before crisping up in a warm oven. These don't take long so be careful when you're cooking them.
We've been eating the Dukkah with the remnants of the wonderfully nutty argan oil that we brought back from Morocco but avocado oil is also great with it (I've been able to find the Olivado brand in my local, normally ill-stocked Tesco) or, of course, some decent olive oil. It's a great snack or nibble with drinks. Just grab some crusty bread – sourdough, ciabatta or a baguette – cut into cubes, dip in the oil, then into the Dukkah and savour.
Dukkah
Sesame seeds – 4 cups
Coriander seeds – 2 cups
Hazelnuts – 1 cup
Ground cumin – ¾ cup
Sea salt – 1 teaspoon
Freshly ground black pepper – ½ teaspoons
Dry roast the nuts and seeds separately in a heavy based frying pan. Crush roughly in either a pestle and mortar or a food processor then mix with the cumin, black pepper and salt to taste.
Serve with good olive oil, avocado oil or argan oil and some crusty bread.
Adapted from A New Book of Middle Eastern Food by Claudia Roden.