Ballymaloe Cookery Course: Week 4: Wednesday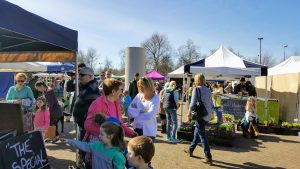 Up at the crack of dawn on Saturday – well, at 6am it's still pretty dark this time of year – to work on the Ballymaloe stall at the Midleton Farmers' Market.
As well as the compulsory practicals and demos at the Cookery School, we can also volunteer for other experiences. Last Tuesday evening I was working and observing in the kitchens of Ballymaloe House, in a few weeks I'll spend Friday night baking at Declan Ryan's Arbutus Bakery – I'm looking forward to the breadmaking, not so much to the 12pm to 7am shift. I've also signed up for a Saturday at the Crawford Gallery Café in Cork city and each Wednesday we have a voluntary organic gardening class at 8am. The only thing I've not volunteered for – so far – is the cow-milking!
Being on the other side of a market stall has been on of the highlights for me. The Middleton Farmers' Market – unlike the now defunct one in Fermoy – is a healthy, thriving little market. Held in the town centre, it has more than a dozen stalls, including Arbutus Bakery, O'Connaill's Chocolate (they also have a shop/café on French Church Street in Cork), Frank Hederman's smoked fish, plants, flowers, olives, organic meat, chicken and vegetables. The Ballymaloe Cookery School stall sells tubs of prepared meals, sauces, jams, jellies, chutneys, organic veg, eggs and pork, many of which are prepared by us students. It is currently run by Philip, an ebullient butcher from Germany, who is experimenting with various cures on the pigs at Ballymaloe, lectures on cheesemaking and also makes a colourful range of cupcakes for sale each week at the market.
I met him and the Czech assistant at the school at 7am to load up. We had our market spot well before 8am and quickly started setting up. Before we were even half-way ready, we had customers looking for eggs – unfortunately, as we're doing omelettes at school at the moment, we only had 1½ dozen. They didn't last long and I spent the rest of the day explaining to people that it was "the students" fault that there was a severe egg shortage!
The morning flew by. A more-or-less constant stream of customers kept three of us busy behind the stall. Philip was like the circus ringmaster out in front, chatting to people, urging them to sample and purchase the Beetroot Pickle, Chicken Liver Pate (the secret behind the flavour? As much butter as chicken livers, if not considerably more!) and Garlic Mayo on offer. Maths never being one of my strong points, I had lots of fun trying to add up what people owed me. Fortunately most people were patient as I wrestled with the figures – there certainly were times that they needed to be.
Mental arithmetic aside, I thoroughly enjoyed myself. It was a gorgeous morning, everyone smiling in the sunshine. Sustained by some Pain Au Chocolat and strong coffees, we flew around until 2pm and then gladly started packing up and putting everything back into the van. I got off lightly, though, as I was going home to the cottage straight from Middleton – the Husband had spent the morning exploring the town and lying in the sunshine until I was allowed to leave.
Totally hyper when I finished work, half-way through a lovely lunch at the Farmgate, I started to fade rapidly and slept the whole way home. Just as well there was another driver on hand.