Ballymaloe Cookery Course: Week 7: Wednesday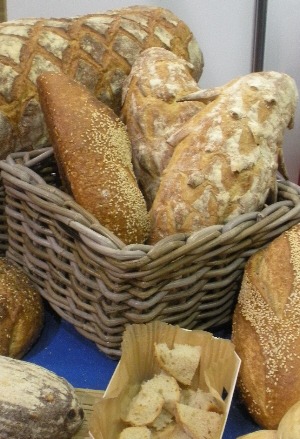 After starting at 8am on Friday – I was on Early AM duty, shaping and rolling pizza bases for that morning's demonstration – and having our first set of set of exams that afternoon, the last thing I needed was a night at Declan Ryan's Arbutus Bakery. But, as my father continually tells my mother, when you enlist your must soldier, so 11.30pm found me wending my weary way along the dark, foggy roads en route to the bakery in Mayfield Industrial Estate on the outskirts of Cork City.
From the moment I got out of the car at 12.30am, until sitting back into it to go home, eight hours later, there wasn't a minute to sit down or even lean against a counter. I was kept busy all night by the three bakers on duty – a Turk, Frenchman and Pole – putting the topping on 160 loaves of Tomato and Basil bread, shaping Brown Soda Bread loaves and cakes, manipulating pide, stacking sourdoughs, egg-washing croissants, pain au chocolate and Danish pastries. With lots to do and big mugs of tea to keep us going, there was no time to feel tired and the time flew.
The worst hour was between 4am and 5am, when there was a short lull as we waited for bread to prove and bake. A pain au chocolate and another dose of tea kept the spirits up and I was soon back in the swing of things. I left at 8.30am, physically shattered but buzzing mentally, with my arms full of the fruits of my labours. I made it safely back to Ballycotton and, after a breakfast of fresh-baked bread, Ballymaloe-made marmalade, and more mugs of tea, the Husband and I headed for home. We hadn't left the sight of the sea before I was unconscious in the passenger seat, only waking up when we got home.
Short week this week so only three cooking mornings. All day Wednesday was spent on a brilliant seminar on setting up your own food business, which included details on costing your dishes and menu planning, to be continued in two week's time. Time to go now – I'm making Shanagary Chicken Casserole and Bread and Butter Pudding today and my mother is coming down for lunch so I've to speed through this morning's cooking!
If you're looking for Arbutus Breads, try Urru in Mallow and Bandon, Declan Ryan sells the bread himself at the Middleton Farmer's Market and On The Pig's Back in Cork's English Market.