Ballymaloe Cookery Course: Week 12: Tuesday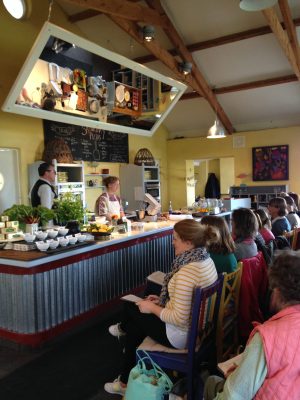 Yesterday we had our last day of cooking in Kitchen Three. It's hard to believe that we're into the final few days of the course already.
At least I got to murder my first lobster before we finished up, for yesterday's Lobster with Cream and Fresh Herb lunch. The other dish I made was a Walnut and Armagnac tart with a really short, biscuity pastry and – of course – another pair of sourdough loaves.
Had a bit of a disaster with the bread on Friday, however, as I forgot to put in the salt so it misbehaved and didn't turn out very well. At least the loaves yesterday were much better, which is a relief as I'm hoping to use the bread toasted under the cheese in my exam starter – A Warm Salad of Ardsallagh Goat's Cheese with Walnut Oil Dressing.
After morning demo today, many of us have Cook Ahead time – my Yoghurt and Cardamom Cream needs to set overnight and at least that will be one less thing to worry about tomorrow although the time will be taken off. It's nice to think that I might get the whole dinner and bread cooked in three hours but, at this stage, I'm not so pushed about that. I just want to get finished!