Old china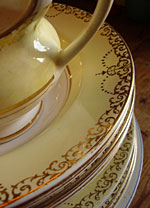 One of the things I love about living in an old cottage is the excuse to furnish it in alternative ways. When I lived in New Zealand, I was an habitué of the op shops (charity shops) in Christchurch, always picking up old cake tins or nutcrackers, battered but usable cutlery, my old dining table and an odd assortment of small stools, used about the house as bedside tables, wee seats and useful steps.
Space being limited in Ireland, I've avoided my worst NZ excesses, much to the Husband's relief: there were once Words by the side of the street when one of my op shop chairs didn't fit into the car. One thing I do watch out for, however, is old china. No trip to New Zealand is complete without a few items being secreted in the luggage for the journey home; last time I even managed to fit a collection of old fashioned spoons (to match the bone-handled knives and forks that I had picked up at the Bantry market last summer).
As time goes on, my modern matched crockery and cutlery keep getting pushed further and further back in the press, as I use and re-use my favourite supper plates and particular forks. The dishes that would once been used as shallow soup plates make perfect pasta bowls and an assortment of mismatched side plates and saucers work to serve up deserts or sweet treats to have with tea.
The photo is of the remaining pieces of a once-numerous set from Arklow Irish Pottery that I picked up recently. With rims of pale daffodil yellow, painted with twisted curlicues of gold, it is the perfect delft to use when eating early summer meals: platefuls and platefuls of steamed and dressed PSB (Purple Sprouting Broccoli – yes, it did turn both P and S, eventually), millet and bulgar salads with roasted vegetables, roasted buckwheat tossed with flageolet beans in a chilli citrus dressing. Everything seems to taste much better when eaten off the perfect plate – especially if that's done outside in the sunshine.