The Book of Sweet Things by Seán and Kieran Murphy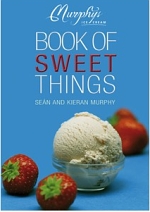 It was only a matter of time before Kieran Murphy's entertaining Ice Cream Ireland blog made it to the printed page. The Book of Sweet Things, written by Kieran and his brother/business partner Seán, tells the story of how two Americans got into the ice cream business in Dingle. Murphys' Ice Cream is now sold from their two shops – one in Dingle and the other in Killarney – while their distinctive blue and white containers are stocked in delis and foodstores throughout Ireland.
The history of Murphys' Ice Cream – from meetings in Paris to work out a business plan, painting the first shop, expanding to Killarney and setting off nervously to Dublin, trying to break into the luxury ice cream market – would give any budding entrepreneur hope but the proof of this book is truly in the pudding.
Recipes are divided into categories covering basic ice creams, Irish and international influences, sorbets and sauces, ice cream deserts, candy and baking and topped off with a section on coffee and hot chocolate. Tales of Kerry cows, ice cream innovations and decent coffees sit side-by-side with snippets of history, kitchen tips and Seán's Favourite Pairings (think warm brownie with Irish Cream Liqueur Ice Cream and hot chocolate sauce or even Toffee Ice Cream and Pecan Pie).
The importance of using first class ingredients – quality chocolate, in-season soft fruits, free range eggs – is rightly emphasised and there are plenty of useful notes at the bottom of the recipes to keep you on track.
The traditional (Vanilla, Chocolate, Mint, Brown Bread Ice Creams) sit happily alongside the more intriguing varieties. Who could resist trying Honey Lavender, Cinnamon Latte or Chocolate Whiskey Ice Creams? What about Mulled Wine Sorbet or Gelato alla Crema? All yours for the making – if you have an ice cream machine. If you don't (and believe me, you will want one after spending time with this book), try wandering into the baking section. Toffee, Honeycomb Candy and Sachertorte are just some of the treats on offer or, if you're into ice cream toppings, recipes for Caramel Sauce and Hot Fudge Sauce will give you something to think about next time you pick up a tub of Murphys' Ice Cream.
As for me, I've heard that you can get an ice cream attachment for the KitchenAid…
The Book of Sweet Things by Seán and Kieran Murphy is published by Mercier Press.