Mandy's Marvellous Muesli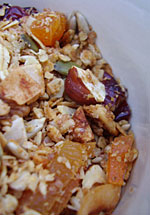 With lighter, warmer mornings (theoretically, at least), porridge is long gone from the mornings and this granola-style muesli is a big favourite in our house. I got the recipe from the Husband's mother while we were in New Zealand in January. She's been working with people who have ME and Chronic Fatigue Syndrome and this (now slightly altered!) was on one of the recipe sheets that she hands out.
It's easy to mix a big batch – just make sure that you have a couple of baking trays large enough to cook it in your oven – and don't forget it. It's all too easy to leave it burn and then it gets very bitter. After it has thoroughly cooled down, I keep it in a large kilner jar, often mixing it half-and-half with plain oats at breakfast time. It is also really good served with fresh fruit and yoghurt.
Mandy's Marvellous Muesli
Honey – 3 tablespoons
Sunflower oil – ¼ cup. Last time I made this I used a delicious cold-pressed brazil nut oil called Amazon Flame that I picked up in my local Oxfam Fair Trade shop.
Rolled oats – 3 cups. The Bunalun organic oats are particularly nutty
Desiccated or/and flaked coconut – 1 cup
Wheat germ – ½ cup
Sesame seeds – 2 tablespoons
Sunflower seeds – 2 tablespoons
Pumpkin seeds – 2 tablespoons
Mixed, chopped nuts – 1 cup. Hazelnuts, almonds and walnuts are all good.
Cinnamon – 1 teaspoon
Dried cranberries – 1 cup
Chopped dried apricots – ½ cup
Preheat oven to 150ºC (a fan oven is actually best for this as it dries the mixture out quicker).
Over a gentle heat, warm the honey and oil until the honey dissolves. Combine the oats, coconut, wheat germ, all the seeds, nuts and cinnamon in a large roasting tin or bowl and mix well with the warmed honey/oil mixture.
Bake in the preheated oven for 30 to 40 minutes, stirring every 10 minutes, until lightly browned. Allow to cool then mix with the dried fruit. Store in an airtight container.
Makes about eight cups.