Shark's Fin and Sichuan Pepper: A Sweet-Sour Memoir of Eating in China by Fuchsia Dunlop
With the 2008 Olympic opening ceremony taking place today, enigmatic China is at the center of attention. Fuchsia Dunlop's Shark's Fin and Sichuan Pepper uses food and cooking to successfully delve beneath the surface.

***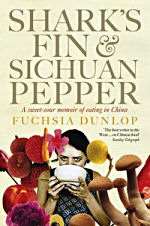 Chef and cookbook author Fuchsia Dunlop's memoir of her time cooking and eating in China is an enthralling read. In 1994, at a time when China was still very closed off from the outside world, this young Englishwoman moved to Chengdu, in the Sichuan province. Ostensibly, Fuchsia was there to study the Chinese policy on ethnic minorities but food was a strong motivating factor – as she filled out her application form, it was with the Chinese sugarplums of chilli bean sauce, Sichuan pepper and frilly pig's kidneys dancing in her head. Despite Fuchsia's early disorientation, she plunged into life in Chengdu, learning the language and finding her way through the bold and interesting flavours of Sichuan food. Before long, she was taking lessons at the Sichuan Institute of Higher Cuisine and was subsequently invited to join a three-month professional chef's training course – an unprecedented invitation for a Westerner.
Shark's Fin… traces Fuchsia's passionate love affair with Chinese food, in all its tastes and textures, colours and complexity. As she recounts the details of her training, after which she wrote her award-winning Sichuan Cookery book, she also travels the country, experiencing different foods and cultures. For many in the West, China – and Chinese food – is often just an amorphous mass, all of one piece, but Fuchsia brings the different regions of China into sharp relief, although this reader could have done with a slightly more detailed map. She eats absolutely everything (poisonous snake and hairy crab, two of the "three headed" feast of Yangzhou and pig's brains), discusses the Chinese love of MSG ("the cook's cocaine"), investigates the region where Sichuan pepper comes from and also notes that Ferran Adrià gave credit to Chinese gastronomy for forging a path that is now being exploited in his El Bulli restaurant in Spain, as he plays – in a very Chinese way – with "form and mouthfeel."
To write her second book, Revolutionary Chinese Cookbook, Fuchsia lived in Hunan during the fear and paranoia of the SARS virus, a long way from her relaxed days in Sichuan. From this point onwards, the tone of Shark's Fin… becomes similarly dark, as she struggles with her own identity – Chinese or British? – and starts to lose her omnivorous appetite, wondering if she should become vegetarian. Happily, an encounter with a stray caterpillar on a plate of vegetables at home in Oxford helped her to clarify her thinking.
With interest in China at an all-time high for the Olympics, Shark's Fin and Sichuan Pepper is an insight into the country and the people, as well as its food. And it certainly has inspired me – with the Husband's Sister and Brother-in-Law currently studying in Xinjiang province, a trip over there may be on the cards at some stage in the not-so-distant future.