Food in Kenmare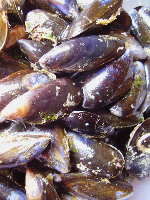 A short trip to Kenmare earlier this week unearthed plenty of good food. Dinner at the Lime Tree was worth waiting for, as we arrived late, stepping into the lively, convivial atmosphere of the restaurant from a cold, damp night. There was plenty to choose from on the menu but my eye didn't go too far and I gladly devoured a dish of the sweetest Kilmackillogue mussels, steamed open in a in a lemon, garlic, ginger and corriander broth. Tempted though I was by the Kerry lamb on offer, I stuck with the seafood and enjoyed the monkfish instead. A portion of well-flavoured pea and chorizo risotto surrounded medallions of the fish, in a rosemary butter sauce, topped with long, curly parsnip crisps. There wasn't a lot left on the plate by the time the friendly waiting staff came to clear and I didn't even get to touch the, for me, superfluous side dishes of vegetables and potatoes. After all that, desert didn't even get a look in and I finished with a pot of peppermint tea.
Next morning, after breakfast, I took a quick trot into town to check out the farmers' market. The stall holders seemed to be busy, despite another rotten day and lots more rain. I just had enough time to pick up a bottle of olive oil from Toby's Olive Stall, along with a couple of purple-streaked heads of French garlic. Ever since the garlic that I brought home from France ran out, I've been desperately trying to find French, or at least European, garlic but most of the bulbs on offer seem to be sad old imports from China so I was delighted to come across garlic in Kenmare. I also grabbed some 2008 Wild Beara Honey and a chunk of honeycomb from a laid-back Californian who had all the time in the world to tell me about his wares. Unfortunately, I didn't have quite as much time to spend there – this time – so I had to grab the honey and go!
After a trip to Kilmackillogue pier, I ended back in Kenmare before heading home. Anxious to grab a bite to eat, I went into Jam and got a bowl of their Carrot and Ginger Soup. In the wrong hands this could have been disastrous but who ever was in the kitchen had a sure hand with the spicing and the soup was delicious, the perfect antidote for the miserable day outside. On my way out I couldn't resist one of the Chocolate and Nut Flapjacks – it's a self-service counter so you are totally tempted by a range of cakes and slices ever before you get to see what's on offer in the savoury side of things. I resisted initially but I was no sooner back in the car than half the Flapjack disappeared.
On my brief wander around town, I also liked the look of the Kenmare Food Company – great coffee smells and lovely books to browse through in the back – the mixture of fine wines, greeting cards, newspapers and quality chocolates in Vanilla Grape and the range of foods available at Truffle Pig. Plenty to investigate next time!