Sarah Raven's Complete Christmas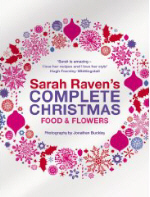 If you need any excuse to get into the Christmas spirit, pick up a copy of Sarah Raven's sparky and seasonal Complete Christmas. I'm already a fan of her comprehensive Garden Cookbook and this is very much in a similar vein, with a big emphasis on using the garden as a resource for creative decorations, food and homemade presents.
There are lots of great ideas for decorating with easily sourced flowers and greenery and the book even inspired me to set some hyacinth bulbs back a few months ago, which are now slowly – it's a cold cottage! – growing into something that look as if they might actually flower in the New Year. Her recipes are gorgeous, with plenty of last minute things to make for the family as well as a could-be-very-useful last minute recipe for Christmas Pudding. Lucky me: Mum's already got that well in hand! There are ideas forentertaining over Christmas as well as things to do with all the leftovers and I've already got plenty of ideas for the post-Christmas mound of food. It never seems to last too long in my family! Give this as an early gift to someone you know who loves Christmas – they're going to love it.