A Day at elBulli by Ferran Adrià, Juli Soler, and Albert Adrià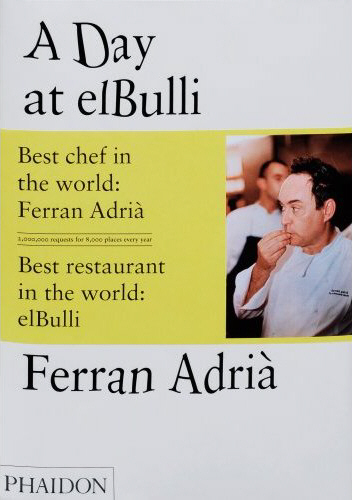 A Day at elBulli by Ferran Adrià, Juli Soler, and Albert Adrià
The demand for seats at Ferran Adrià's elBulli restaurant in Northern Spain is such that only a fraction of the people who want to will ever get to eat there. Its pedigree is well known – three stars from Michelin, a chef who is the king of molecular gastronomy, two million requests a season for only 8,000 places, four times named best restaurant in the world.
However, despite all this, elBulli operates at a loss. The money comes in from Adrià's lectures and books like this that fan the flames of the legend even as they purport to show how the restaurant works.
A Day at elBulli documents a day's worth of activities. Pictures, menus and a few recipes – more to instill respect than for reproduction at home – tell the story from behind the scenes. Adrià, together with restaurant manager Soler and his brother/fellow chef Albert, give you a glimpse into a kitchen where very little cooking, in the way we understand it, takes place. It is mysterious and magical and fascinating, the inserts that focus on certain parts of the restaurant's methodology being particularly engaging.
A Day at elBulli is not a cookbook but an intriguing insight into Adrià's creative processes and the inner workings of elBulli. Handsome and hefty, a coffee table book in both senses – for putting on and using as – of the phrase.
A Day at elBulli by Ferran Adrià, Juli Soler, and Albert Adrià is published by Phaidon Press (£29.95).