The Irish Times Christmas Supplement: Part One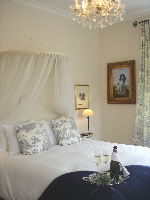 The first of my contributions to last Thursday's Irish Times Christmas Supplement…
A Foodie Getaway in Ireland: The Old Convent
What do you want from a weekend getaway? A romantic location that is not too obvious, yet easily accessible? A relaxed atmosphere, stylish comfortable bedrooms, fabulous breakfasts and a dinner to die for? In that case, head straight to Dermot and Christine Gannon's The Old Convent. Situated in the small Tipperary town of Clogheen, this hidden treasure is nestled at the foot of the Knockmealdown mountains. Dermot and Christine established their restaurant with rooms here, in the former home of the Sisters of Mercy, in 2006 and have since been attracting customers from far and wide.
The main draw, of course, is Dermot's creative eight-course no-choice tasting menu, created afresh each day with a focus on organic and local artisan produce, including Trass raspberries, North Cork pancetta, Dunmore East crab and Gabriel cheese. Dinner is served at 8pm in an atmospheric candlelit dining room. From well-balanced appetisers, seasonal veloutés and sorbets, beautifully cooked fish and meats to the grand finale, The OC signature Chocolate Fondue, the meal is brilliantly paced and perfectly presented.
Overnight guests can see that Dermot's quality standards don't lapse overnight, with a fine breakfast to look forward to (don't miss the Skillet Baked Organic Eggs) when you manage to rise from the bed. His assured cooking is expertly complimented with Christine's thoughtful hospitality. From the moment you arrive at The Old Convent, you feel cossetted and taken care of. Enjoy the roaring fire in the drawing room or take advantage of the residents' mini-kitchen, stocked with a selection of herbal teas, fruit and chocolate. If you can motivate yourself enough to leave this comfortable nest, Christine can also recommend plenty of options for outings nearby, including a scenic trip over the Vee to Lismore with plenty of mountain walks to work up your appetite for the feast to come, a historic day rambling around Cahir Castle and the Rock of Cashel, or even a romantic cliff walk by the sea in Ardmore.
The Weekend
Treat the one you love to a Two Night Hideaway in The Old Convent – two nights B&B plus one eight-course dinner for two people – for €450.
The Old Convent, Mount Anglesby, Clogheen, Co Tipperary. Web: www.theoldconvent.ie Tel: 052 65565 Email: info@theoldconvent.ie
More Eating
After those breakfasts – and with dinner in your sights – you may not need to consume anything extra for the round of the weekend but, should you get nibblish, there are also plenty of eating opportunities nearby.
Keeping with the religous theme, take the road to Cashel for dinner in the converted church that houses Chez Hans, where you can sample their famed Cassoulet of Seafood or eat from one of the well-priced early-bird menus. During the day, you can enjoy lunch next door at Café Hans – lots of colourful salads, substantial open sandwiches, a selection of hot dishes and good deserts.
Café Hans, Moor Lane, Cashel Co Tipperary. Tel: 062 63660
Chez Hans, Moore Lane, Cashel, Co Tipperary. Tel: 062 61177
Both open from Tuesday to Saturday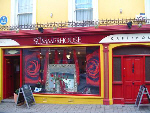 A trip to the heritage town of Lismore leaves you spoilt for choice. Head to Foley's on the Mall and grab a seat in the downstairs room for decent pub food beside an open fire with friendly service but be sure and leave room for pudding afterwards at The Summerhouse Café. Enjoy some decadent sweet things on offer there (make sure you check out the Tunisian Orange Cake), all baked in-store – before you let your credit card lose on the colourful homeware and quirky kitchen equipment for sale.
Foley's on the mall, Main Street, Lismore, Co Waterford. Web: www.foleyslismore.com Tel: 058 53671 Email: info@foleysonthemall.com
The Summerhouse Café, Main Street, Lismore, Co Waterford, Ireland. Web: www.thesummerhouse.ie Tel: 058 54148 Email: info@thesummerhouse.ie
The Irish Times Christmas Supplement : Part Two
The Irish Times Christmas Supplement : Part Three