North Cork Organic Group and Parsnip Pecan Muffins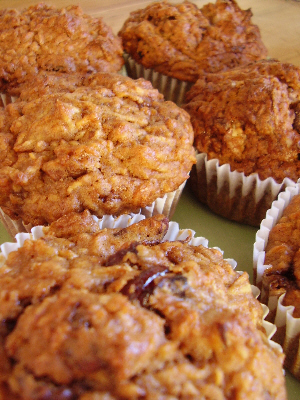 Last night the Husband and I headed along to the first 2009 get together of the North Cork Organic Group, no doubt tempted by the fact that the group was concentrating on seasonal food for the meeting! The newsletter, kindly dropped in by my Rockmills Neighbour, asked for recipes and, if possible samples, of dishes using root vegetables. Inspired by the proud parsnips that I had picked up last week at the Mahon Point Farmers' Market, I decided to use them in a sweet recipe. If you can bake carrots into a cake then why not make muffins out of their sweeter sister?
An online search threw up this recipe for Parsnip Muffins on the Whole Foods Market website. Parsnips, apples, pecans and spices – it sounded like a good plan to me. And it kept sounding like a good plan until I got to the cooking stage. Somehow 20-25 minutes turned into something more like 30-35 minutes. Time was ticking away, we were supposed to be gone and I was already sick of the whole project.
In disgust, I abandoned the muffins, jumped into the car and we arrived just in time for the start of the evening at the Nano Nagle Center. There were plenty of tastings and lots of interesting food on offer, from little Potato Pancakes to a savoury Turnip Gratin. Despite Carmel Somers' inspiring ideas about turnip (she bakes slices of turnip with lots of grated ginger) is the one vegetable that I just don't seem to have any time for but the night gave me some ideas for this most ubiquitous of Irish vegetables.
And my muffins? They weren't actually so bad when I tried them after we got home, rather dense like carrot cake but well flavoured. This morning they made an entirely acceptable breakfast, heated and served with butter and honey. Here's a link to the original recipe and below you can see my adapted one – extra spices, dried cranberries, and a change in the timing. I cooked my muffins at 180°C in a fan oven.
Parsnip and Pecan Muffins
Pecans – 1 cup
Plain flour – 2 cups
Muscovado sugar – 1 cup
Bread soda – ¾ teaspoon
Baking powder – ½ teaspoon
Salt – ½ teaspoon
Ground cinnamon – 1½ teaspoons
Ground ginger – ½ teaspoon
Ground nutmeg – ¾ teaspoon
Ground allspice – ¾ teaspoon
Ground cloves – ¾ teaspoon
Ground nutmeg – ¾ teaspoon
Dried cranberries – ½ cup
Large eggs – 2
Sunflower oil – ¾ cup
Milk – ½ cup
Vanilla extract – 1 ½ teaspoons
Grated raw parsnips – 2 cups (3 peeled parsnips, approximately)
Large apple – 1, peeled and grated
Preheat the oven to 180°C and oil or put bun cases into 18 muffin tins.
Toast the pecans in the preheating oven for 10 minutes, until lightly coloured, then chop roughly.
Whisk the dry ingredients – flour, Muscovado sugar, bread soda, baking powder, salt and ground spices – together in a large bowl. Add the chopped pecan nuts and the dried cranberries and mix well. In a smaller bowl beat the the eggs, sunflower oil, milk and vanilla extract together.
Add the wet ingredients, along with the grated parsnips and apple, to the dry ingredients and mix until just combined. Divide between the prepared muffin tins and put into the preheated oven. Bake for 30-35 minutes or until firm and a skewer comes out clean when inserted into the centre of a muffin. Remove from the tins and allow to cool on a wire rack.
Makes 18.
Adapted from this recipe on the Whole Foods Market website.