Foodtalk on Newstalk: MP3s online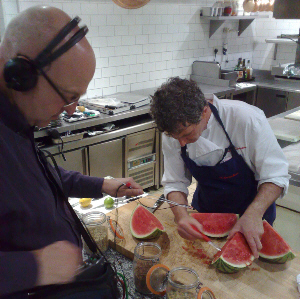 If you're interested in listening back to any of the Foodtalk shows that were broadcast on Newstalk over the last six weeks (no more sending text alerts online – my Sunday nights have suddenly gotten very quiet!), they're now all available as podcasts from the Newstalk website. You can see them all here and full details of the interviewees are below.
Programme 1 MP3: Livestock – Jacque Barry from Jacques Restaurant, Cork and Fingal Ferguson of the Gubbeen Smokehouse, Schull, West Cork.

Programme 2 MP3: Seafood – Tony Daly from The Lime Tree, Kenmare, and Paul Kelly, mussel farmer and goldsmith, from Kilmackillogue.

Programme 3 MP3: Spices – Carmel Somers from The Good Things Café, Durrus, Co Cork and Arun Kapil of Green Saffron, Midleton, East Cork.

Programme 4 MP3: Wild Food – Áine Maguire from Kueppersbusch and Seamus Moran of LoTide Fine Foods, Westport, Co Mayo.

Programme 5 MP3: Dairy – Aoibheann McNamara, Ard Bia, Galway and Kieran Murphy from Murphy's Ice Cream, Dingle.