Winning ways with winter veg: Lamb Shanks with Root Vegetables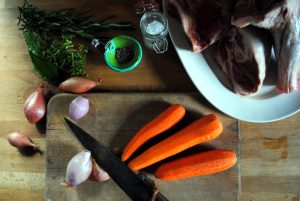 I was never a vegetable fan as a child. Potatoes? Well, they were a totally foreign land to me – as were, to my poor mother's despair – carrots, cabbage, peas, parsnips and turnips. I did (sometimes) like Cauliflower Cheese, though. Broccoli was just making inroads into rural Ireland but as it was cooked like all the other vegetables, ie boiled to within an inch of its life to be served limp and tasteless, I didn't bother with it. The first time I had carrots that arrived at the table with some texture was a revelation and, gradually, I started to explore the mysteries of the vegetable world.
The Husband came complete with a major love for any kind of vegetable, the greener and leafier the better, especially if it resembled his favourite silverbeet (Swiss chard). While living in New Zealand I got to grips with cooking lots of silverbeet, pumpkin and kumara (sweet potato) and realised exactly how much you could pad out a minimal amount of meat with plenty of good veggies. The vegetable garden further concentrated the mind, especially last spring when it was 101 ways to deal with gluts of purple sprouting broccoli, kale and silverbeet. I knew times had changed when I sat down to a bowlful of shredded kale for supper, briefly cooked with no more than garlic, chilli and lemon.
This year there's little on offer from the garden but I've been able to visit a variety of farmers' markets recently so we're not suffering too much of a vegetable deficiency. My problem is that I tend to overbuy so we have stacks of root vegetables, in particular, to use up. Encouraged by talking to Carmel Somers of the Good Things Café for the Foodtalk: Spices programme (listen to the show here), I picked up my first turnip last week and it made its way into an hearty winter casserole, full of the sweetness of roots, sharpened with a little lemon juice and preserved lemon. It may look unpromising, like lamb stews often do, but the flavours sing in the mouth and you'll have plenty of gravy for mashing into potato on one of these chilly nights.
Lamb Shanks with Root Vegetables
Olive oil – 3 tablespoons
Lamb shanks – 2
Plain flour – 2 tablespoons
Garlic – 2 cloves
White wine – 100mls
Vegetable stock or water – 750mls
Onions – 2, cut into segments
Carrots – 2, peeled and cut into 2cm chunks
Parsnips – 2, peeled and cut into 2cm chunks
Turnip – ½, peeled and cut into 2cm chunks
The juice of half a large lemon
Large sprig thyme
Preserved lemon – ½ , diced
Preheat the oven to 180ºC.
Heat the olive oil in a deep ovenproof casserole and season the lamb shanks. Lightly brown the lamb in the hot oil on all sides, lift out and set aside. Add the the onions to the pan followed by the garlic, letting them cook until soft. Sprinkle over the flour and allow to cook for a few minutes before pouring in the stock and white wine.
Bring to the boil, then add the chunks of carrot, parsnip and turnip with the lemon juice and thyme. Season well then return the shanks and any collected juices to the pan. Cover tightly with a lid and place in the oven.
Cook for 1½ hours, turning the shanks every so often. Add the preserved lemon dice, stir well and return to the oven until the lamb is tender and easy to pull from the bone and the vegetables are tender. Season to taste – sometimes I add some of the salty, lemony liquor from the preserved lemons for added piquancy – and serve with plenty of mashed potatoes to soak up the gravy.
Serves 2.