It's a…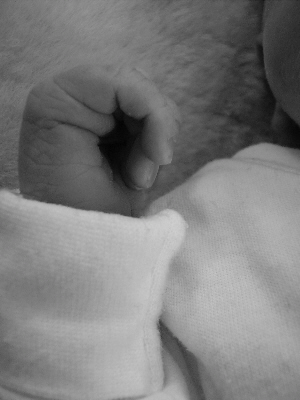 …beautiful, solemn-eyed, unexpectedly straight-haired, long fingered little girl! Little Missy is a week old today and we're gradually getting the hang of each other, just enough so I get to actually turn on my computer for five minutes while she sleeps for a while.
Food is obviously her priority – she takes after both her parents that way, although her appetite seems to be more in the Husband's league! – so I'm also eating for Ireland to keep up with her demands. It says a lot for my newly developed hunger that I even devoured the CUMH food (think soggy toast, grey lamb stew and inedible vegetables) while I was stuck in there, along with the more palatable flapjacks, blocks of cheese, tubs of hummus, oatcakes and bags of apples that the Husband kept me supplied with.
Being home, the food has definitely taken a turn for the better. The Husband has been cooking up a storm and all those meals that I froze in the weeks before Little Missy was born are now coming in handy. The fact that we're only a few miles from my parents has also been brilliant. Bags of scones, boxes of messages, stews and lasagnes have all been arriving on the doorstep since we came home from the hospital.
Our newly acquired breadmaker is kept working hard – it's always much easier to put on a loaf of bread rather than go to the shop. My morning toast comes enriched with milk-producing fennel and aniseed, making a tasty line-up of soldiers to dip into a boiled egg, fresh from our hens and sitting in one of the cheerful eggcups from my Naas Cousin.
Still quiet behind me. Life is good. Time to grab lunch, methinks…