Flavour by Vicky Bhogal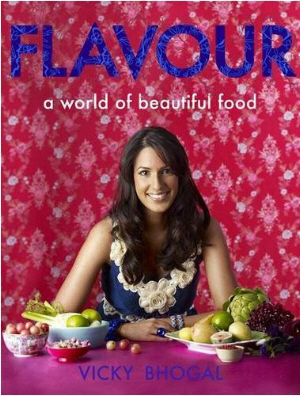 Growing up in a household where Punjabi rotia and English casseroles each had their own places, Vicky Bhogal revels in placing ingredients from different cultures side by side. In the introduction to Flavour, she talks about making the most of imported as well as local foods, explaining her own democratic approach to ingredients. She revels in comforting risotto as much the tartness of tamarind, the garam masala of her Indian childhood used as much as Italian peccorino.
Some of the combinations may seem, on first glance, to be a little outlandish but Vicky explains the reasons behind each dish in a brief recipe introduction and there are many inspiring ideas: rainbow trout are crusted in oatmeal and served with a poppy seed and ginger butter sauce; spiced plums and star anise combined with duck risotto; steak rubbed with piri piri and cocoa. She keeps her recipes balanced and in proportion, concentrating on just three flavours and noting where you can substitute ingredients with similar flavour profiles.
Flavour is a bright, well-illustrated book, full of colourful sketches and jam-packed full of ideas. When Vicky is not expanding her simple and unusual recipes, giving a selection of alternatives or substitutions, she's exploring the lineage of the ingredients with references to Sanskrit literature, Jewish custom and ancient Greek texts.
Punchy and exciting, Flavour is the kind of cookbook that will really inspire you in the kitchen.
Must try: Crumbled Lincolnshire Sausage, Cranberry and Lemon Pasta; Grilled Sardines with Beetroot, Pink Grapefruit and Parsley; and, especially yummy, a fantastic recipe for Foil-Baked Feta
Flavour by Vicky Bhogal is published by Hodder & Stoughton.