Have spork, will travel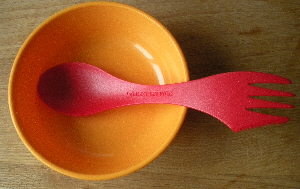 Last year, on a trip to London, I picked up a spork – a light plastic utensil which features a spoon at one end, fork at the other and serrated knife edge on the fork side – in a kitchenware shop and I've rarely been without it since. The last quarter of 2008 was taken up with train trips to Dublin as I worked on the Foodtalk documentary series and, food on the train being what it is – or isn't – my spork was invaluable.
Breakfast on the early morning Mallow-Dublin train was made easy by making sure there was some tortilla left over from last night's dinner to pack and eat en route but it was on the homeward leg, normally in the late afternoon, that the spork really came into its own. Short on time, I often ran into Fallon & Byrne or Avoca to choose from a selection of hummus, crackers, cheese, bread and pâté with, perhaps, a few cherry tomatoes thrown in for good measure.
After my usual last minute scramble to make the train, I relaxed, ensconced in my train seat, and – to the amusment of my fellow passengers – happily cut, scooped, spread and (s)forked up my supper. At that stage in the year, pregnant with Little Missy, I just couldn't wait until I got home for food or stomach the limp train sandwiches.
Since LM has started on solids, the spork is back in use again. For the last week, while we were housesitting for friends in East Cork, it let me prep her lunch on the move. Bananas, nectarines, pears or, on one day, much to Little Missy's distain, a kiwi fruit were brought along in a little bowl, peeled, chopped, mashed and fed to the child while we were out and about. While we were able to enjoy lunch in the Ballymaloe House Café (yum), Stephen Pearce Emporium (yum) or Aherne's of Youghal (hmm), LM chowed down on her own food, making it a positive experience for us as well as the other diners!
The only places I've seen these sporks in Ireland are in the shops at Ballymaloe House and the Ballmaloe Cooking School (priced about €2.95) but I think that they should be easy to find in outdoor shops and you can see them online at http://www.light-my-fire.se/230-147-spork.htm. Well worth picking up – for children of all ages.