Mallow Food Festival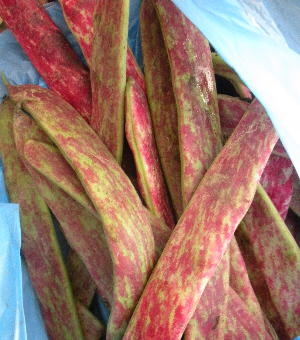 Despite the weather, there was a good turn out at the Mallow Food Festival on Sunday, plenty of people around to eat at the stalls that lined the main street. Our pick of the lot was the fresh fish and chips from West Cork, fish caught that morning and battered as we watched, decent chips and homemade tartare sauce for dipping. The Husband declared it the best fish 'n' chips that he had eaten since we were last in New Zealand, it being practically a national dish there.
An unhappy baby, sodden Husband and damp guests (the Husband's cousin and her husband were staying with us for the weekend) made our trip a short one. I still managed to grab a bag of (slightly muddy!) borlotti beans, some Old Millbank Smokehouse smoked trout, a jar of homemade pesto from a Mallow Farmers' Market stalwart, a couple of Green Saffron spice blends and, most exciting of all, a bag of some very fine coffee from a new local boutique coffee roasters called Badger & Dodo.
I only drink coffee at breakfast but, especially after Little Missy decides on a middle-of-the-night-waking, it is an essential part of the day. Owner Brock Lewin recommended the Ethiopian Harrar for use in stove-top moka pot and ground it specially – I'm already addicted to sniffing the bag and hope to progress on to opening it soon, having been promised plenty of blueberry flavours!
Well done to all involved in organising this year's Mallow Food Festival – fingers crossed for better weather next year.