Mitchelstown Food Festival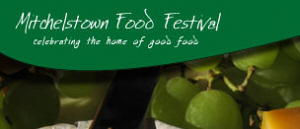 The Mallow Food Festival may be over, but the local focus on food continues. This year's Mitchelstown Food Festival will take place this coming weekend, Friday 28, Saturday 29 and Sunday 30 August and the theme is, very appropriately after last year's pig-meat debacle, Bringing Home the Bacon.
Events over the festival weekend include a workshop on Irish Pork from Farm to Fork on Friday, an open air barbecue on Lower Cork Street Saturday evening and a producers' market, with local and national food products, at the Coolnanave Business Park on the main Dublin road (across from the Firgrove Hotel) on Sunday.
The workshop looks particularly interesting. It's taking place at the Firgrove Hotel, from 2pm to 5pm, and will be hosted by Eddie O'Neill, the local Teagasc Artisan Food Specialist. A flyer that I recently received (and promptly lost!) had more details about the participants, including producers from all aspects of the pork industry.
There's more information online at www.mitchelstownfoodfestival.com, via email (mitchelstownfood@gmail.com) or telephone (085 8003095).
Updated 26 August 2009: Just found the flyer and here's the line-up for Friday.
Pig Farming from Farm to Fork – Carol O'Brien
Recession Busting Butchery – Finn's Butchers
Traditional Sausage-Making Demo – Paddy Ward, Teagasc
Hodgins' Sausages Achievments – Mervin Hodgins
Cookery Demo: Pork Belly – O'Callaghan's Deli
Artisan Food Discussion – Caroline Rigney