Student treats: Caramel Squares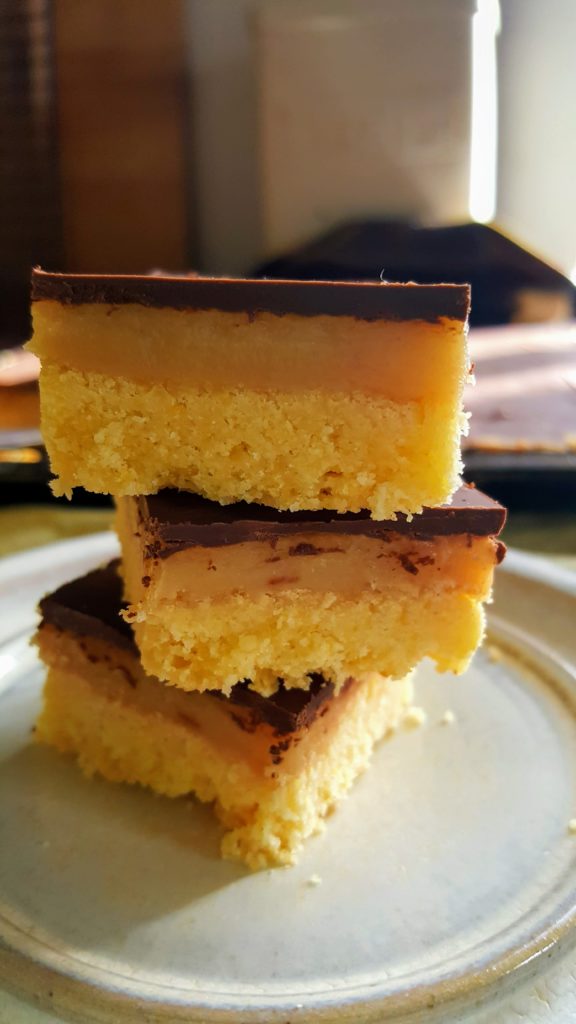 When we were in college, the Brother's Housemate came from a catering household. His mother used to make hundreds of superb Christmas cakes and puddings each year, cook for parties and events and, most importantly to us, make the best Caramel Squares known to students.
Living on an unbroken biscuit diet of Cadbury's Chocolate Fingers – our habitual study food (oh, the excitement when a white chocolate variety came on the market) – these were manna from heaven. Every time the Brother's Housemate was able to sneak or was given (we never knew, never asked) a box of them, we would descend on his house like a plague of biscuit-seeking locusts.
Although I'll never be able to make Caramel Squares quite as good – the circumstances will never lend themselves in exactly the same way – this recipe gets me pretty close. Very good to donate to any students you know, if you can bear to part with a few. The recipe is basically the same as the one for Tan Slice, which is handy to know if you discover at the last minute that you don't have any chocolate for the topping in the house.
Caramel Squares
Base:
Self-raising flour – 350g
Butter – 225g
Caster sugar – 110g
Filling:
Butter – 225g
Caster sugar – 225g
Golden syrup – 5 tablespoons
Full cream condensed milk – 1 x 397ml tin
Topping:
Good quality milk or dark chocolate – 200g
Preheat the oven to 180ºC (170ºC fanbake). Process or rub the self-raising flour, butter and caster sugar together until the mixture resembles breadcrumbs. Press into a 25cm x 38cm x 4cm Swiss roll tin. Bake in the preheated oven for 20 minutes or until golden.
Meanwhile, melt butter in a heavy-based saucepan over a low heat. Add the caster sugar, golden syrup and condensed milk. Stir continuously for 40 – 50 minutes until it reaches the soft ball stage – that is, when a little caramel is dropped into some cold water it can be rolled into a soft ball between your fingers. Pour over the base and allow to cool.
Melt the chocolate and smooth over the top. Allow to cool and set before cutting into squares. Makes about 24 small pieces, depending on how generous you are with sizing.