The best chocolate cake: Chocolate Orange Spice Cake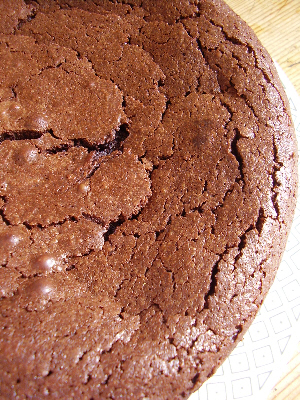 I've always liked to bake. As soon as I was old enough to co-ordinate reading recipes and using a wooden spoon, I was anxious for any cake-making excuse – and most of them involved copious amounts of chocolate. Over the years there have been many good chocolate cakes, from my early attempts using chocolate-flavoured cake covering and marg to (when I started paying for my own shopping!) butter and 70% dark chocolate.
This cake, however, although it may not look like much, stands head and shoulders above the rest.
I discovered it in the Green and Black's cookbook when we were in New Zealand. We had a friend who was coeliac so I was always on the look out for cakes that were suitable for her and this was a good one. Deep and dark and deliciously decadent, this was a gluten-free cake that didn't try to pretend it needed some kind of flour substitute. Neither did it need the eggs to be seperated and the whites whisked, something which – at the time I had no electric mixer or whisk – turned me off many a recipe.
This is a very quick cake to make: just melt, whisk, mix and bake. It can be served as it is with good vanilla ice cream or topped with a cloud of softly whipped cream and dusted with cocoa or grating of cacao. You can, of course, leave out the orange rind and spices but I love these flavours with the chocolate.
Chocolate Orange Spice Cake
This is a grown up cake, not too sweet, but you don't want to go overboard with the dark chocolate here. I've made it with 70% chocolate and it can be a bit too rich. I use a mixture of 70% and 55%, proportions jigged according to what's on the chocolate shelf and the designated audience.
Dark chocolate – 300g.
Caster sugar – 275g
Butter – 165g
Sea salt – a pinch if you are using unsalted butter. Otherwise optional.
Eggs – 5
Ground almonds – 1 tablespoon
Grated rind of one orange
Ground cinnamon – 1 teaspoon
Nutmeg – ¼ teaspoon, freshly ground
Cream and cocoa or cacao to serve
Preheat the oven to 180ºC (170ºC fan bake). Butter and line the base of a 23cm spring-form cake tin.
Put the chocolate, butter, sugar and salt, if using, into a large bowl and suspend over a saucepan of simmering water. Remove from the heat when the chocolate and butter are melted and allow to cool.
Whisk the eggs with the ground almonds, orange rind and spices. Mix gently into the melted ingredients until it thickens slightly then pour into the prepared tin.
Bake in the preheated oven for 35-40 minutes. This cake does not rise very much but you will know that it is cooked when it has cracked on top and shrunk slightly away from the sides of the tin. When tested with a skewer it should still be soft but not raw inside.
Allow to cool on a wire rack for a few minutes before removing the sides and base of the tin. When cold, top the cake with a layer of softly whipped cream and either sieve over a teaspoon of cocoa or grate over a sprinkling of cacao.
Serves 8.