Lemon Poppyseed Loaf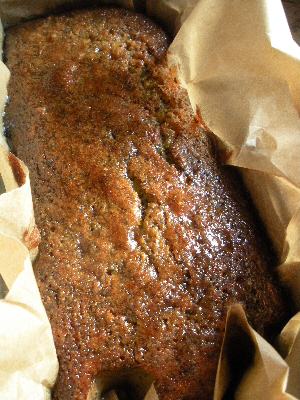 There are days when nothing but a loaf cake will do. When I'm calling round to a friend or heading to stay with a cousin, I like to bring something with me and these days I'm going through a phase of loaf cake making. I normally make a pair so there's one to take and one to leave at home – it would be terrible if the Husband starved to death in my absence!
Perfect with morning coffee or afternoon tea, loaves are good and portable if you're travelling and there's more cutting in them so they go that bit further. Favourites include Ballyvoddy Tea Brack, Gingerbread and, when there are bananas on hand, a chocolate-studded Banana Loaf, but I'm stuck on this Lemon Poppyseed Loaf at the moment. Moist, zesty and very morish, it's difficult to resist. Just check your teeth afterwards for any stray poppy seeds.
A note on lining loaf tins: I'm lazy so I just take a piece of greaseproof paper and wedge it roughly into the buttered tin. It might not look great but it's done quickly and speed is often of the essence around here with Little Missy shouting for attention while I try to get something in the oven.

Lemon Poppyseed LoafPoppy seeds – 50gMilk – 50mlsButter – 125g, at room temperatureCaster sugar – 175gEggs – 2Zest of 1 lemonSelf-raising flour – 175gIcing sugar – 100gJuice of 1 lemonPreheat the oven to 180°C (170°C fanbake). Butter and line a 450g loaf tin. Soak the poppy seeds in the milk.Cream the butter and caster sugar together until light and fluffy. Add the lemon zest and eggs, mix well, then fold in the self-raising flour. Gently add the poppy seed-milk mixture. Scrape into the loaf tin and bake in the preheated oven for 35-45 minutes until well-risen and golden brown. A cake tester or skewer should come out clean when inserted into the middle.While the cake is baking, mix the icing sugar with the lemon juice in a small saucepan and heat gently until dissolved. Pour the syrup over the cake and allow to cool in its tin.Makes 1 x 450g loaf cake.