Stop press: Julie & Julia screening at The Big Scream!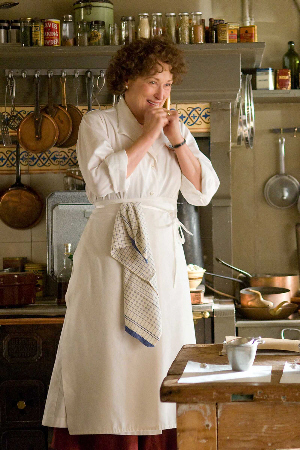 I've only managed to go to the cinema twice since Little Missy arrived on the scene, an enormous drop off when compared with the four or five films a week I might go to see when I reviewed films for the RTÉ entertainment website. I used to go see those films during the day, and for free. That was a Very Good Thing – even if the films were bad, and some were really, truly horrendous.
A couple of months ago I went to see the latest Harry Potter with the Little Sister in Mallow. LM decided to throw a colicky/hissy fit at home, almost driving the Husband to distraction while I sat on oblivious in the cinema. Once I went to the Big Scream, a parent and baby screening at Cork Omniplex in Mahon Point but the film on offer that day was Angels and Demons. About two-thirds of the long, inexplicably convoluted way through, I decided – as I wasn't being paid to review films anymore – that I was well within my rights to leave.
When I heard that Julie & Julia was being released in Ireland in September, I was determined to see it and had the Husband lined up to do another night of Little Missy-sitting. Then I got an email from the Cork Omniplex – this month's Big Scream film is, ta da!, Julie & Julia.
For any other similarly film-deprived parents, this month's screening is taking place next Wednesday, 16 September, at 10am and, despite all the babies around the place, I've definitely been in films when there's been more noise from a more, ahem, mature audience. The Big Scream films are just €7.00 for one adult and one child under four years.