Winter Warmers: Moroccan Lamb and Apricot Tagine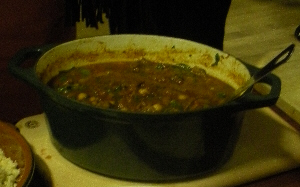 When I lived in New Zealand, cooking was my way of getting to know the (then Boyfriend, now) Husband's family and friends. Three of his sisters lived nearby in Christchurch and they, together with a boyfriend and various cousins, were regular visitors to our house. When I look back on the recipes that I gathered in those days, they rarely were for dining à deux; instead I cooked roasting tins full of Chicken with Garlic and Lemon, made overflowing pans of Beef and Chorizo Pie and baked large dishes of Chocolate Bread and Butter Pudding.
Of all those recipes, this one for a Moroccan Lamb and Apricot Tagine, is one that I have returned to again and again and it was my first choice of dish to cook for Glenroe Ladies' Group last week. A tagine, is quite simply, a stew by another name, with plenty of warming spices and a sweetness from the apricots. It's one of those cheap and cheerful recipes, easy to make ahead of time – the flavour is, in fact, much improved by making it the day before you intend to eat it – and, as it uses a cheap cut of lamb (€11.50 a kilo from Hanley's butchers in Mitcheltown) , this is a meal that won't break the bank.
Moroccan Lamb and Apricot Tagine
Olive oil
Shoulder of lamb – 1kg, boned, fat removed and cut into 4cm cubes
Juice of one lemon
Onions – 2, peeled and chopped
Garlic – 6 cloves, peeled and chopped
Ground cumin – 2 teaspoons
Ground coriander – 1 teaspoon
Ground paprika – 1 teaspoon
Ground ginger – ½ teaspoon
Ground cinnamon – ½ teaspoon
Chilli powder – ¼ teaspoon
Tinned chopped tomatoes – 2 x 400g tins
Water – 250mls
Dried apricots – 200g, halved
Tinned chickpeas – 1 x 400g tin
Spinach leaves – 1 x 210g packet, washed and chopped
Sea salt, freshly ground black pepper
Preheat the oven to 160°C (325°F/Gas 2).
Heat the oil in a large heavy pan over a high heat. Add the cubes of lamb and fry in batches until browned on all sides. As the lamb is cooked, put it into an ovenproof dish and toss with the lemon juice.
Turn down the heat to medium, add a little more oil to the pan and cook the onions until softened, about 5 minutes. Add the garlic, cumin, coriander, paprika, ginger, cinnamon, chilli powder and cook, stirring, for about a minute until warm and fragrant.
Add to the ovenproof dish with the tomatoes, water, dried apricots and season with salt and pepper. Cover and cook in the preheated oven for at least 1½ hours or until lamb is tender.
For the last ten minutes of cooking time, remove from the oven, taste and season if necessary, add the chopped spinach to the dish and return to finish cooking.
Serve with couscous and dollops of natural yoghurt.
Serves 6.