Oven fun – again! – at cookery demo: Upsidedown Banana and Cardamom Cake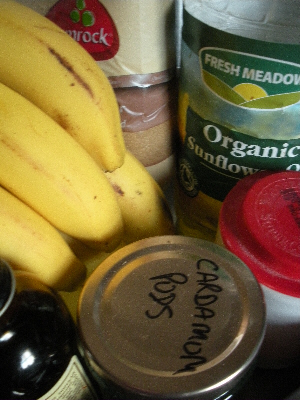 Cookery demonstrations + cakes + ovens + me = narrow escapes! On Wednesday night I was demonstrating some recipes in the community centre at Knockcarron, a really lovely renovated primary school in Co Limerick, when oven issues arose once again.
Last time I was dealing with an unfamiliar gas oven, which I very helpfully managed to turn off half way through so that that night's cake took about twice as long to cook. This time round I had an electric oven at my disposal so what could go wrong? I was making a Banana and Cardamon Cake, another simple upsidedown recipe which I cook in a large deep ovenproof frying pan. I melted and mixed and explained and landed everything into the pan – and then spent a few tense minutes trying to squeeze it into the oven. The handle was too long so the door just would not close. I had visions of stationing someone to sit in front of the oven and hold it shut for the baking duration!
Fortunately, my mother (very important to have an assistant who knows exactly where the demonstration is taking place!) had a brainwave and suggested turning the pan to the right instead of to the left so it – finally – very, very snugly fitted in and disaster was, once again, narrowly averted. It doesn't matter how well you're prepared for a demonstration, there's always something that can go wrong. Luckily, after all that, it tasted ok!
During the demonstration, I mentioned that I've also made a festive variation of this cake with fresh cranberries. I haven't seen them in the shops just yet but, for anyone who does manage to get their hands on them, here is the recipe: Cranberry Cake for Christmas

Upsidedown Banana and Cardamom Cake
Butter – 50g
Light Muscovado sugar – 125g
Bananas – 3
Juice of ½ lemon
Buttermilk – 250ml
Eggs – 2
Light Muscovado sugar – 225g
Sunflower oil – 125ml
Vanilla extract – 1 teaspoon
Plain flour – 300g
Baking powder – 2½ teaspoons
Bread soda – 1 teaspoon
Salt – ½ teaspoon
Cardamom pods – 5, the seeds removed and ground or 1 teaspoon of ground cardamom
Preheat the oven to 180°C (350°F, Gas 4).Melt the butter in a ovenproof frying pan that is 25cm in diameter. Stir in 125g sugar and cook over a gentle heat for about 2 minutes until the sugar is melted. Slice the bananas and lay them in overlapping rows over the caramel. Sprinkle with the lemon juice.
Place the buttermilk, eggs, 225g Muscovado sugar, oil and vanilla into a large mixing bowl and whisk gently. Sift the flour, baking powder and cardamom on top and mix together quickly but thoroughly. Take care not to overwork the mixture.
Pour the cake batter on top of the bananas in the pan. Bake for 30 to 35 minutes, until the top is firm, golden brown and well risen.
Remove from the oven and allow to stand for 3 or 4 minutes. Place a serving plate on top of the pan. Quickly – but carefully because of the caramel mixture – turn plate and pan upside down and gently lift the pan off. Remove any stubborn bits of banana from the base of the tin and set them in place on top of the cake.
Serve warm with yoghurt, cream or custard. Serves 6-8 (or makes just enough to give a small taste to each of a 60-strong crowd!)