Cooking for Your Child by Nicola Galloway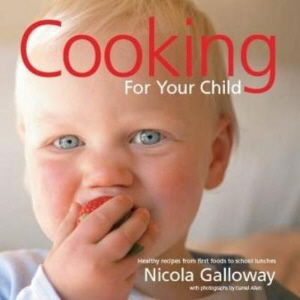 Nicola Galloway may be based in Nelson, New Zealand, but this no-nonsense, practical cookbook will appeal to parents in any hemisphere. From first tastes and flavors to school lunches and dinnertimes, there are plenty of ideas here for feeding children of every age group as well as recipes you can adapt for the entire family.
A trained chef and nutritionist, Galloway focuses on healthy eating but not at the expense of taste and ease of preparation. This book is packed with simple recipes – rather than spending money on the big brand versions, why not make your own rusks, muesli or Chocolate Hazelnut Spread? – along with ideas for adding iron (dried fruit) to baby porridge, protein (ground oats) to pancakes and vitamin and mineral-rich spirulina to smoothies.
Plenty of tips on using ingredients like spices, ground nuts and kelp are scattered in bite-sized chunks throughout the text. The recipes are sandwiched between a chapter on nutrition and a collection of useful appendices, including a meal planner and food introduction table.
While this book will be of most interest to parents, there are few people that won't learn a little about eating well from reading it.
Cooking for Your Child by Nicola Galloway is published by Craig Potton Publishing and is available online – more details from www.nicolagalloway.com
Must Try: Cashew Banana Chew, Pinwheel Scones, Grilled Chicken with Yellow Rice Pilaf