Baking for babies: Banana Spelt Biscotti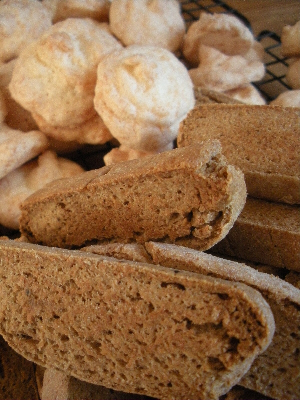 Sometimes, in this house, baking is not just for the bigger members of the family and, along with the Flapjacks and Shortbread, there's even a tin marked with Little Missy's name. It's currently filled with these twice-baked Banana Spelt Biscotti, which I love because they are easily made, contain no sugar and it's up to you about the kind of flour you use. These, along with LM's favourite rice cakes, are perfect afternoon snacks – and easily portable – but she is quite happy to munch on them at any stage, and especially loves a small smear of marmite on the biscotti when we're at home.
I first came across these first in New Zealand, when LM loved the Teething Biscotti, made by her Kiwi Nana from a recipe from Nicola Galloway's Cooking For Your Child. Back home, I used up some spelt flour from the storecupboard, although you could, of course, use plain flour or, as Nicola suggests, rice flour. I also added a pinch of ground cinnamon as we're all needing warming spices for this continuing wintery weather. She recommends giving them to babies aged from nine months but, as with any dietary directions, judge by your own child's abilities to deal with food.
As I only needed the egg yokes for this recipe, I used the whites to make the batch of Macaroons that you can see behind the biscotti in the picture. I'm not entirely happy with that recipe so I won't share it here but, unless you have a trustworthy Macaroon recipe, you could use the spare egg whites for meringues and they also freeze well. The biscotti, however, do sit around happily in an airtight box for a couple of weeks or you could store them into the freezer if you want to use them to relieve teething pains.
Banana Spelt Biscotti
Ripe bananas – 2
Butter – 50g, at room temperature
Egg yokes – 2
Spelt flour – 225g to 300g
Cinnamon – 1 generous pinch
Preheat the oven to 170ºC (160ºC fanbake) and grease two baking trays.
Put the bananas, butter and egg yokes into a bowl and mash together. Add as much of the spelt flour as needed to make a smooth dough. The amount of flour you need will depend on the size of the bananas.
Divide in half and shape into 2 x 20cm logs. Place one on each baking tray and bake for 15-20 minutes until firm. Take out of the oven and allow to stand for 10 minutes.
Using a serrated knife, cut logs diagonally into 1cm slices. Place the slices back on the baking sheets and bake for another 15-20 minutes until dry and crisp, turning halfway through the cooking time. Cool on wire racks.
Makes about 40 biscotti.