Bye, bye Hanoi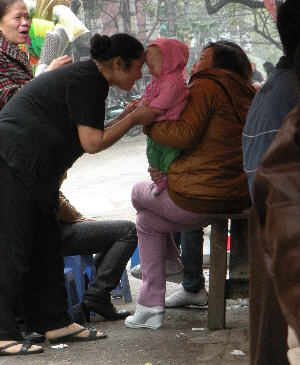 And goodbye to all our new friends at the noodle stalls lined up on the roadside just around the corner from where we were staying.
A few mornings of breakfasts there and we were regulars. With a choice of Pho Ga (chicken noodle soup), Pho Tofu (noodle soup with, yes, tofu) or Banh Cuon (rolled rice pancakes) from the three ladies cooking at the stalls and a bar for coffee just across the road, this was good eating.
Little Missy also enjoyed herself, getting whisked away by the drinks lady – that's her, on the left – to sit at the corner and be cooed at, clucked over and her mother queried whether she had dressed the child warmly enough!
Breakfasts back in Ireland just aren't the same.