Forgotten Skills of Cooking: The Lost Art of Creating Delicious Home Produce by Darina Allen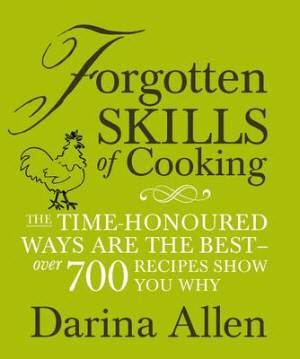 If ever your grandmother knew how slow cooking turned beef cheeks meltingly tender, could tell her Rhode Island Reds from Marans or was able to grow, harvest, preserve and cook her own runner beans, you'll nod knowingly at Forgotten Skills of Cooking and enjoy leafing through the pages. If you weren't lucky enough to have that kind of paragon of virtue in your life, think of Darina Allen's latest book as a kind of virtual granny in book form.
Alongside reams of information on the kind of old fashioned kitchen and housekeeping techniques that were in danger of being lost, Allen has crammed more than 700 recipes into 600 pages of close-packed text. If you've ever had a yearning to take up chicken rearing, cider making, fish smoking or foraging for seaweed, you'll find all that here, and more. Much, much more.
From foraging to poultry, dairy to preserving, this is the kind of book that you pick up for one recipe and get lost for days. It's particularly strong on baking with plenty of recipes for puddings (Summer Fruit Jelly, Figgy Toffee Pudding), cakes (Lemon Cornmeal Cake, Barmbrack) and biscuits (Gingernuts, Shortbread Biscuits) and a whole bread chapter that is no less than a call to arms in defence of our daily bread.
Forgotten Skills of Cooking is a book that just might change your life. And, even if it doesn't go that far, it certainly will enhance it.
Forgotten Skills of Cooking by Darina Allen is published by Kyle Cathie
SilverCircle.ie: Interview: Darina Allen – Reclaiming forgotten skills plus a recipe for Emer Fitzgerald's Braised Lamb Neck Moussaka.