Irish Blog Awards 2010: Bibliocook nominated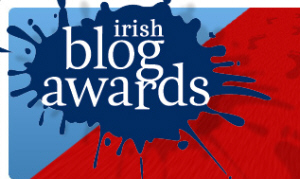 It's that time of the year again. The Irish Blog Awards longlist has been issued and it's great to see Bibliocook getting a mention in the Best Food/Drink Blog section, again this year sponsored by Bord Bia. Last year's awards took place in the International Airport Hotel in Cork so off I, plus Little Missy bump, toddled for that night's festivities, even if we had to go home a little earlier than the rest of the partygoers!
This year the Blog Awards are taking place on Saturday 27 of March in Galway's Radisson Blu hotel and, judging by the list of nominees, there will be plenty of competition on the night. Here is the list of nominees in my category – there's plenty of old favourites and newcomers to feast your eyes on – and you can see the rest of the categories and nominated blogs here.
Best Food/Drink Blog: Longlist 2010 – Sponsored by Bord Bia
Best of luck to everyone involved!