Pancake Tuesday: Buckwheat Pancake Cake with Leeks and Mushrooms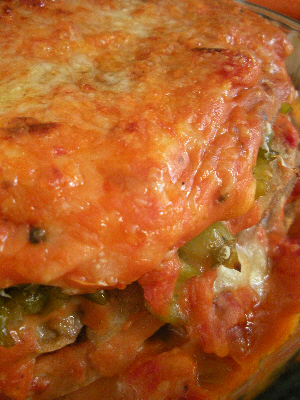 Pancake Tuesday came early at the cottage this year. I always love to have friends come over to eat pancakes but with the Husband getting home from work late and a Little Missy who is decidedly not at her delightful best in the evenings, lunchtimes are a much better time to entertain. Sunday became our Pancake Tuesday so we were able to invite our three Rockmills Neighbours and, as one of the Husband's English Engineer friends was staying with us for the weekend, he – as well as doing a lot of washing up! – also got fed.
This year I made a break from the old routine (ie Spinach and Ricotta Pancake Bake) and, inspired by Julia Child's Gâteau de Crêpes à la Florentine from Mastering the Art of French Cooking, made a Gâteau de Galettes avec Poireaux aux Champignons or Buckwheat Pancake Cake with Leeks and Mushrooms (reads so much better in French!).
Although it may look like there are a lot of steps in the recipe below, it is easy to break it down over a couple of days. For instance, for dinner on Sunday I made the pancake batter and tomato sauce the previous Friday afternoon while Little Missy hung out at my ankles. On Saturday, child on my hip, I cooked the pancakes while the Husband and English Engineer went to the pub to watch the rugby match. During LM's nap on Sunday morning, I made the Béchamel and fillings, assembling the entire thing a couple of hours before our guests were due to arrive and landed it into the oven at 1pm for a 1.30pm lunch. (The washing up was all done, of course, by the Husband and English Engineer!)
This is a very filling main course so I just made a zesty Carrot and White Cabbage Salad and Beetroot Yoghurt Salad to accompany the gâteau. For desert? What else but plain pancakes, cooked to order and served with the traditional lemon and caster sugar. Enjoy your own Pancake Tuesday!
Buckwheat Pancake Cake with Leeks and Mushrooms (Gâteau de Galettes avec Poireaux aux Champignons)
Galettes (Buckwheat Pancake)
Buckwheat flour – 125g
Plain flour – 25g
Pinch salt
Eggs – 2
Milk – 600g
Butter – 1 tablespoon, melted
Tomato Sauce
Olive oil – 2 tablespoons
Onion – 1, finely chopped
Garlic – 2 cloves, finely chopped
Chopped tinned tomatoes – 2 x tins
A bay leaf
Brown sugar – 1 teaspoon or to taste
Béchamel or White Sauce
Butter – 50g
Flour – 50g
Milk – 400mls
Nutmeg – a scraping
Fillings
Butter – 2 tablespoons
Button mushrooms – 250g, quartered
Leeks – 3, thinly sliced
To assemble
Mozzarella – 2 x 125g balls
Parmesan – 3 tablespoons grated from the block
Make the pancake batter:
Put the buckwheat flour, plain flour and salt into a large bowl, mix well together and make a well in the center. Whisk the eggs and milk together, pour into the dry ingredients and mix slowly, gradually incorporating the flour from the sides. When all amalgmated, add the melted butter.
Alternatively, if you're worried about lumps, just land all the ingredients into the food processor and blend.
Make the pancake as normal and stack on a plate. This amount of batter should make 10, plus the first non-useable one.
Make the Tomato Sauce:
Heat the olive oil in a heavy based frying pan. Add the onion and soften over a moderate heat for 3-4 minutes then add the garlic and continue to cook for another 3-4 minutes. Pour the tinned tomatoes into the pan, squashing them as you stir, add the bay leaf and sugar, and simmer for at least 15 minutes to concentrate the flavour. Season to taste with salt and pepper.
Make the Béchamel Sauce:
Gently melt the butter in a saucepan. Add the flour and whisk over a low heat for two minutes. Add the milk, whisking all the time, and allow to simmer for 10 minutes, still stirring regularly. Add the nutmeg and season to taste.
Make the fillings:
Melt a tablespoon of butter in a heavy based frying pan. When it is foaming, add the mushrooms, season and cook over a medium heat for 3-4 minutes until golden brown on all sides. Remove to a bowl and set aside. In the same pan, melt the other tablespoon of butter, when foaming add the sliced leeks, season, cover and cook over a low heat until tender.
[Everything can be made ahead until this stage then assembled when you want to cook the dish.]
To assemble:
Mix the tomato and béchamel sauces together. Butter a round baking dish and lay a pancake in the centre. Spread with 3-4 tablespoons of tomato béchamel sauce and sprinkle with one-fifth of the cooked mushrooms and some mozzarella. Press a pancake on top, spread with another layer of sauce, then sprinkle with one-fifth of the cooked leeks and some more mozzarella. Continue with alternating layers of pancake, sauce and filling, mixing the last portions of leeks and mushrooms with mozzarella for the second last layer. End with a pancake, spreading the remaining sauce over the top and sides. Sprinkle with grated parmesan.
To cook:
Preheat the oven to 180°C (170°C fanbake). Cook for 25-30 minutes until heated through, bubbling and browned on top. To serve, cut into wedges.
Serves 4-6.
Inspired by Julia Child – check out her recipe for Gâteau de Crêpes à la Florentine in Mastering the Art of French Cooking for pure precision.