St Patrick's Day: Potato Apple Tart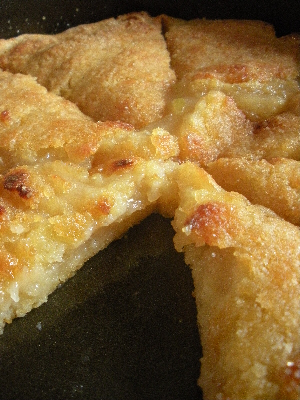 With St Patrick's Day being tomorrow, one's thoughts turn to food. Specifically food of an Irish sort, which includes, naturally enough, all things potato. So when I was reading through my recently acquired copy of Margaret Bates' Talking about Cakes with an Irish and Scottish Accent, her recipe for Potato Apple Cake caught my eye. She said it was a delicacy from the orchard districts of Co Armagh but didn't give an actual recipe, describing it as two rounds of potato cake sandwiching an apple filling and cooked on the griddle.
Sounded like a challenge to me so here is my recipe for what I think is more like a tart than a cake. This is best served hot out of the oven and, surprisingly enough, the flavour of the potatoes and apples go really well together, especially with a jug of custard on the side!
Incidentally, this is a cookbook well worth searching out. According to the notes at the front, Margaret Bates was the Vice-Principal of the City of Belfast College of Domestic Science and she also wrote The Belfast Cookery Book and Talking about Puddings. Talking about Cakes was first published in 1964 and, while I'm not a fan of her over-enthusiastic use of margarine (give me Monica Sheridan and her devotion to butter any day!), there are lots of unusual recipes in this book to (re)discover.
Happy Patrick's Day – hope I'm not too late for the Daily Spud's Paddy's Day Food Parade!
Potato Apple Tart
This is best made with freshly cooked potatoes but cold leftover ones are fine. If you have a potato ricer, this is the time to drag it out of the back of your cupboard as it enables you to get a very smooth texture without too much work with the masher. The amount of flour you will use varies according to the type of potato.

Cooked, mashed potato – 475g
Butter – 25g, melted
Salt – ½ teaspoon
Brown sugar – 1 tablespoon
Flour – 3-4 tablespoons
Filling
Cooking apple – 1, peeled, cored and chopped into 2cm chunks
Brown sugar – 25g
Butter – 25g, melted
A little milk, for brushing
Brown sugar, for sprinkling
Preheat the oven to 200ºC. Butter the base and sides of a 23cm round tin.
Mix the mashed potato, melted butter, salt and brown sugar together. Add enough flour to make a soft dough. Divide in half. Gently roll both pieces into circles that will fit the base of the tin. Carefully – the dough is very fragile – pat it into place.
Mix the apple, sugar and butter for the filling together and sprinkle over the dough. Cover with the second circle of dough, brush with milk and sprinkle with sugar.
Cook in the preheated oven for 30-35 minutes until golden brown. Serve hot, straight from the oven.
Adapted from Talking about Cakes with an Irish and Scottish Accent by Margaret Bates.