Volcanic pizza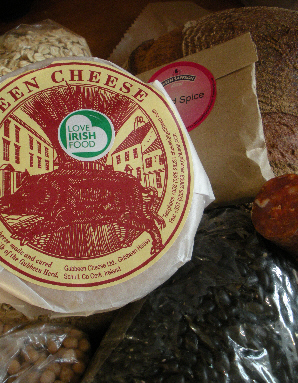 Blue skies plus a good morning's work under my belt were the perfect excuses for heading off to my favourite farmers' market in Mahon Point today. It seemed that I wasn't the only one with that idea as I got stuck in traffic during the lunchtime rush there and our first choice for lunch – Green Saffron curry – had already sold out.
While filling the bag and Little Missy's pushchair with a few other purchases (cheese and chorizo from Gubbeen, Green Saffron's fragrant mixed spice, dried goods from Len's Cereals, Arbutus wholemeal sourdough), I spotted a new arrival in the corner. With the name Volcano at the front of the stall, three people working with a neat wood-fired oven on wheels were turning out irregularly-shaped pizzas to what looked like an appreciative audience. While I regularly make pizza dough and did a workshop in building my own wood-fired oven a couple of years ago, I still haven't managed to put the two skills together and it's fairly difficult to get your hands on a decent pizza in this angle of North Cork.
This, however, is pizza that you would travel for. Rolled and stretched in front of me, the thin base, not overloaded with toppings, blistered up in the heat of the oven, was sprinkled with cheese, fresh herbs and chilli, served and eaten within minutes. Really good quality dough, a simple tomato sauce and mozzarella made the margherita worth waiting for (a 7″ round for €6) but the pizza with Gubbeen salami is definitely going to be on order for my next trip to Mahon market. Talking to stallowner Simon, it seems that himself and his gorgeous oven (is it possible to have oven envy? I've pretty sure I'm afflicted) are going to be heading to the markets in Limerick's Crescent Shopping Centre (Wednesdays), Cobh (Fridays) and Douglas (Saturdays) in the near future.
Volcano is definitely one to watch out for, especially if you have the presence of mind to order your pizza first, scoot around the market while its cooking, and return to pick up a delicious lunch. Oh, and if you can finish up with some coffees from Cork Coffee Roasters and a few of  Pâtisserie Regale's café bars (don't miss the new chocolate one) then you have a lunch made in heaven – or Cork – especially if you get to eat it in the sunshine.