Easter Sunday rambles
There was sunshine and crowds at the Mallow Food Festival on Easter Sunday morning, the street thronged with people wandering at the early event before heading home for Easter lunch. I abandoned the Husband and Little Missy at home for a quick zoom in and out as we were heading down to Gort na Nain Guesthouse that afternoon, with a side trip to Cork so the Husband could peruse the offerings at the Franciscan Well Easter Beer Fest.
Mallow Food Festival: There were sweet things aplenty, including a couple of stalls – Cupcake Cottage and Crafty Confections – concentrating on beautifully decorated cupcakes. For those who wanted to preempt their lunch, Green Saffron were doing a brisk trade dishing up bowls of fragrant curry, Anne Bradfield's Taste a Memory pies were going down a treat and there was a busy-looking stall serving up baked potatoes and vegetarian chilli. There were also gorgeous aprons, in adult and kids' sizes, on sale from Coco Chico. I was very restrained, just picking up some Ballyhoura apple juice, cider and cider vinegar and a couple of jars from the Rebel Chilli stall: a sweet but spicy jalapeno and raspberry relish and a HOT jar of chillionaire sauce.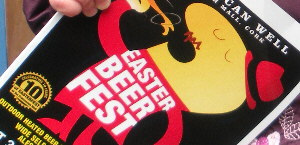 Franciscan Well Easter Beer Fest: The Husband, after a few considered pints – sorry, tastings! – was most impressed with the hoppy, refreshing Óir (he thinks) from new Kildare company Trouble Brewing.
Although I wasn't drinking, I was impressed with the range of microbrewery beers on offer, the stalls arrayed around a small courtyard with a well-produced brochure listing all the breweries and beers. It's a great sign of the times when there's such a variety available and it looks like Ireland's microbrewery revolution is finally taking off.
Franciscan Well Brewery, North Mall, Cork. www.franciscanwellbrewery.com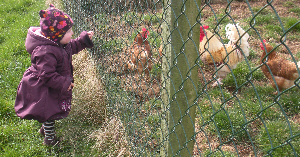 Gort na Nain Guesthouse: staying at Gort na Nain is like staying with that couple of really cool friends that you have – you always get a comfortable room, ready-equipped with great music and books, a chance to walk around the nine-acre organic farm and observe how things have been progressing, and, to top it all off, they are also amazing cooks.
For dinner: tartlets of Jerusalem artichokes, chard and feta – little stacks of crispy polenta discs, sandwiching borlotti beans with mature Ardrahan goat's cheese – muscavado meringue with stewed rhubarb and cream. And we don't even have to do the wash up! Is it any wonder that we return year after year?
Gort na Nain, Ballyherkin, Nohoval, Kinsale, Co Cork. www.gortnanain.com