Silver Circle: A Cook's Holiday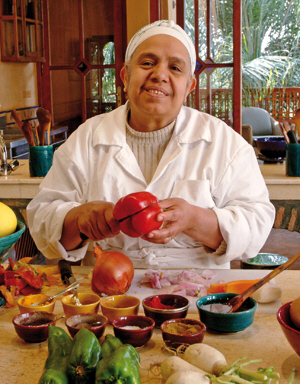 Stirring tagines in Morocco, making fish cakes in Bangkok or buying the ingredients for Chicken with Apples in Normandy, make the most of your holidays by taking a cookery class while abroad. On SilverCircle.ie Caroline Hennessy gives some ideas for locations where the recipes you learn will last far longer than a suntan.
Useful Contacts
The Wilde Kitchen, Normandy, France
www.wildekitchen.net
The Hanoi Cooking Centre, Hanoi, Vietnam
hanoicookingcentre.com
La Maison Arabe Cooking School, Marrakech, Morocco
www.lamaisonarabe.com
Baipai Thai Cooking School, Bangkok, Thailand
www.baipai.com
Do you ever find holidays stressful? All that time on your hands and nothing to do? When you get fed up of sitting around on sun loungers and reading stacks of trashy novels, try signing yourself up for a cookery class. Surrounded by the tastes and flavours of a different culture, you'll never have a better opportunity to pick up some new recipes and get hands-on experience of unusual culinary techniques – as well as getting an insight into another world.
Whether you're a seasoned pro at the hob or a pure novice, there are classes to suit cooks of all levels. Pick and choose from cook-it-yourself mornings or demonstration-only evenings. Classes often include market visits, which are a great opportunity to find out more about local ingredients and, if you sign up to a class early, you can often specify the dishes you would like included in the lesson. Also, make sure you take the opportunity to ask your teachers for local food tips and restaurant recommendations.
So pack your wooden spoon and discover that the world can be your oyster, tagine or even spring roll!
The Wilde Kitchen, Normandy, France
Irishwoman Sinéad Allart, married to a Frenchman and living in Normandy for the past 17 years, runs a cookery school in Benoistville, just a 20-minute drive from Cherbourg. A typical day-long programme in her French country kitchen starts with a market visit and an opportunity to meet local producers, with lots of samples included.
Evening classes, in a relaxed, convivial atmosphere – there is plenty of wine provided – take place in the kitchen of Allart's 18th century farmhouse. Everyone helps to prepare simple dishes using the local produce chosen in the market that morning before sitting down together for dinner. Poulet Vallée D'Auge (chicken with apples and cream) is a particular favourite.
Allart offers an à la carte menu of cooking classes, accommodation and dining-out options, with class prices starting at €85. www.wildekitchen.net
The Hanoi Cooking Centre, Hanoi, Vietnam
The Hanoi Cooking Centre was set up by Australian chef Tracey Lister, who previously worked with KOTO, an intensive hospitality training programme for street kids. She retains strong ties to KOTO – recently publishing a fundraising cookery book – and many of the teachers at the centre are KOTO graduates.
Classes, which cost $45 (around €34), are held in the purpose-built cooking school and café on the edge of the city's atmospheric Old Quarter, starting off with a stroll down to the local market. Dodge the tooting mopeds as you walk around stalls piled high with fresh herbs, tempting displays of tropical fruit and vegetables, still-live fish and clucking chickens awaiting the chop.
Back in the more relaxed environment of the school, work alongside the teachers as you learn how to prepare banana flowers for salad, mix together fillings for spring rolls and come to terms with nuoc mam, the pungent Vietnamese fish sauce. With regular classes on Vietnamese street food, food from the coast or vegan tofu cookery – Hanoi produces fantastic tofu – there are plenty of options to choose from. With this class, you discover new foods to taste and new flavours to bring home. hanoicookingcentre.com
La Maison Arabe Cooking School, Marrakech, Morocco
It's easy to buy lots of cooking souvenirs from the souks of Morocco but make sure that you sign up for a cooking workshop at La Maison Arabe so that you can make the most of your new tagine or couscoussier. Classes are held in the peaceful atmosphere of the boutique hotel's country club, with a translator on hand to explain the history of Moroccan cooking, while a Dada (a traditional Moroccan cook) demonstrates the techniques. Then it's your turn to try your hand at dishes such as Chicken Tajine with Lemon and Olives, Pastilla (a sweet-savoury meat pie) and a range of Moroccan salads under the Dada's eagle eye.
After a busy morning's cooking, the finished dishes are served outside in the garden before the hotel shuttle delivers you, full of food and newly equipped with recipes and knowledge, back to the hotel. Classes are open to non-residents with price depending on the number of people attending.www.lamaisonarabe.com
Baipai Thai Cooking School, Bangkok, Thailand
If, amidst the hectic temple visits and shopping, water taxis and cafés, you have some spare time in Bangkok, enjoy the peace of a morning learning to chop and sizzle your way through a selection of Thai dishes at the open air Baipai Thai Cooking School. The price of the class, Thai Baht 1,800 (approx €41), includes a pick up from your hotel, a morning of hands-on cooking, a recipe booklet so you can recreate your masterpieces at home and the lunch which, of course, you've made yourself.
Small classes watch as the teacher clearly and deftly demonstrates how to make an assortment of Thai dishes such as fish cakes (Tod Man Pla), stuffed chicken wings and gorgeous little banana custards, with lots of tips on alternative ingredients if you're not able to get your hands on palm sugar, wing beans or spotted featherback fish at home. Then it's time to get slapping your own fish cake paste.
Attendees vary between ardent cooks and those who get dragged along by their partners but everybody enjoys the day of cooking, eating and getting to meet the friendly Thai staff and fellow travellers. www.baipai.com