The Bridgestone Irish Food Guide by John & Sally McKenna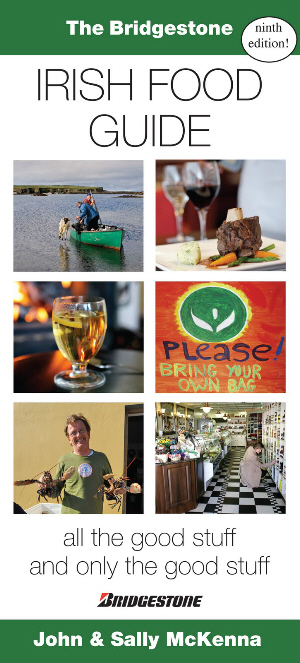 The ninth edition of the Bridgestone Irish Food Guide has arrived and it's overflowing with smokehouses and bakeries, markets and farmshops, gastropubs and country houses.
Packed with, as they say, "all the good stuff and only the good stuff", John and Sally McKenna, together with their contributing editors, have roamed the highways and byways of the country to put this chunky, opinionated food directory together. Whether it is revisiting old favourites – Glebe Gardens, The Old Convent, McCarthy Butchers – or discovering new pleasures (Gourmet Gadgets, Kate's Farm Shop, the Blue Geranium Café, Organico), there's lots to read here and even more to seek out.
But it's not all sweetness (check out Bridgestone newbie Pandora Bell) and light (Valentia's Lighthouse Café gets a great write up). In his introduction John McKenna takes the supermarkets, which he describes as amoral, destructive harlots, to task for their role in destroying Irish farming.
He calls for the shoppers of Ireland to take a stand, focusing on Fair Trade for our own by "buying local food from local farmers". And then, with the hundreds of entries that follow, he hands you the tools to facilitate this, whether it is by market, by website or by phone.
My copy has now gone to live in the car, fitting neatly into its usual spot – the side pocket of the passenger's seat – where I can peruse it regularly, helpfully pointing out good stopping spots to the Husband. Any book that can help me identify decent stopping places on the road from Cork to Dublin (Café Odhrán and The Gallic Kitchen, both Abbeyleix) is more than worth €15. Bring on the next road trip!

The Bridgestone Irish Food Guide 2009 is published by Estragon Press. Buy it online here.
9 July 2007: A trip to Carlow with the Bridgestone Food Guide