World Food Media Awards – Other Irish nominees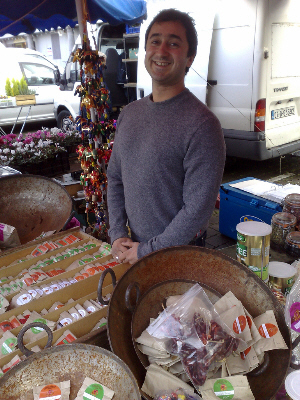 After I recovered from the excitement of the Foodtalk: Spices nomination in the Best Food/Drink Radio Programme for this year's Le Cordon Bleu World Food Media Awards – it's taken a while! – I found a few fellow Irish nominees on the list.
Two RTÉ-produced television programmes – Catherine's Italian Kitchen with Catherine Fulvio (one of the few dark-haired female chefs working in a sea of blonds!) and Trish Deseine's Trish's Paris Kitchen – are competing against each other for Best Television Food and/or Drink Show. The other Irish nominee – although categorised under United Kingdom – is Darina Allen for her hefty Forgotten Skills of Cooking (Kyle Cathie) in the Best Hardcover Recipe Book (over €35) category. One of the books that Darina is up against is the heartbreaking Secrets of the Red Lantern by Pauline Nguyen (Murdoch Books), which I've just finished, a book on Vietnamese food as told through a prism of pain and miscommunication.
Also on my bookshelves is one of the nominees for Best Soft Cover Recipe Book, KOTO: A culinary journey through Vietnam by Tracey Lister and Andreas Pohl (Hardie Grant). I picked this up in Hanoi while doing a cookery class at the Hanoi Cooking Centre and, with my recent purchase of a corriander plant, I'm hoping to actually use some of the recipes! Andrew Pern's magnificant Black Pudding and Foie Gras (Face) is up for a Best Food Book award, as is the thought provoking Bottom Feeder by Taras Grescoe (Harper Collins).
It's also good to see New Zealand's Cuisine Magazine nominated in a total of six categories, between photographers (Aaron McLean, Ken Downie), writers (David Burton, Ralph Kyte-Powell), as well as being up for Best Food Magazine and Best Drink Magazine for their Cuisine Wine Country publication. 
But, naturally enough, the most important category is my own! Here is a list of my fellow nominees, with – when I could find them – links to their radio programmes.
BEST FOOD/DRINK RADIO PROGRAMME
Foodtalk: Spices – Presented by Caroline Hennessy and Kevin Thornton, produced by Soundsdoable, IRELAND
Talking Food with Lyndey Milan – Presented and produced by Murray Wilton and Lyndey Milan, AUSTRALIA
Kathmandu Kitchen: Spiritual Sustenance – Presented by Elaine Corn, Produced by Capital Public Radio, USA
Cooking with Lynne Mullins – Presented by Lynne Mullins, Produced by Fairfax Media, AUSTRALIA
Cooking with Kindness – Presented by Kate Nelson and Geoff Hutchison, Produced by ABC Radio, AUSTRALIA
Sue Zelickson Holiday Special – Presented by Sue Zelickson, Produced by WCCO Radio, USA
The Main Ingredient: New Year's Day – Presented by Kelli Brett, Produced by ABC Radio, AUSTRALIA