Irish Seaweed Kitchen by Prannie Rhatigan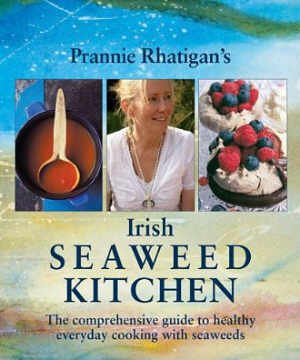 How do you make seaweed sexy? Take a passionate woman who happens to be an expert forager and cook, add a strong sense of place – the Sligo coast – scatter with a selection of recipes from well known (Domini Kemp, Hugo Arnold) and local Irish chefs (Brid Torrades of Sligo's Tobergal Lane Cafe) and you have Prannie Rhatigan's fabulous Irish Seaweed Kitchen.
An erudite cookbook that makes seaweed accessible to those who never had the opportunity to harvest duileasc, kelp or sleabhac, Rhatigan combines tempting recipes with tips on how to make the most of a large variety of sea vegetables. Seaweed plays a major part in some recipes – Filo Pie with Sea Spaghetti, Mushrooms and Apples, Duileasc Champ, Nori Pancakes with St Tola Cheese – but Rhatigan also has a wide range of recipes with unexpected additions: a seed cake with sugar kelp, cookies with sea spaghetti or alaria, duileasc in cheese scones. The Teddy Bears' Picnic chapter gives a great selection of recipes that will appeal to kids and directions on how to set up your own clambake, a method of steaming foods – Ratigan includes lobsters, chickens, clams and mussels – in a pit with seaweed, had me salivating.
Alongside information on how to gently introduce seaweed to your diet and a glossary of edible seaweeds, there is also a well-photographed chapter on picking your own, with tips on where the different varieties grow. Just in case you don't get a chance to splash around by the sea side, Rhatigan also includes the contact details for Irish and Northern Irish seaweed suppliers, including Bibliocook favourite and Foodtalk: Wild Food interviewee Seamus Moran of LoTide Fine Foods. That list – and a useful bookmark printed with a simple guide to preparing seaweed for culinary use – will give impetus to many people interested in embarking on their own seaweed adventure. A fascinating, delicious and inspiring read.
Irish Seaweed Kitchen by Prannie Rhatigan is published by Booklink. Thanks to the publisher for the review copy. More information on her own website at www.prannie.com. After being inspired by her cookbook, keep an eye on The Organic Centre website for her popular seaweed cookery demonstrations and walks.