Pork and bloggers *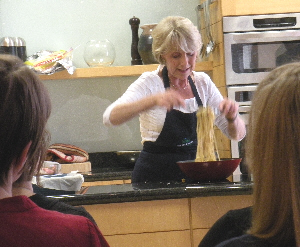 It was (almost) pig all the way at Bord Bia's Irish Food Bloggers Event yesterday as 30 people – some strangers in the flesh, yet already intimates online – gathered together for a day of demonstrations, discussions, and attempts at matching faces to personalities. As the ripples from 2008's dioxin scare are still being felt throughout the industry – only today has the Chinese market reopened to Irish pork – the focus was on the pig, specifically Bord Bia Quality Assured Irish Pork.
Following David Owens' information about the Bord Bia quality mark and the calm preparation of spelt bread and miso pesto by Lorraine Fitzmaurice of Blazing Salads, GMIT butchery lecturer Pat Conway's animated antics with a loin of pork really set the ball rolling (you can watch him in action here and here). For all the world like a cheery model for the butcher mannequin which stands outside shops around Ireland, Conway proceeded to cut up the meat with gusto, punctuating his sentences with strokes of the knife. Pork dissected, Maire Dufficy of Bord Bia took center stage for a demonstration of simple, mammy-style, pork recipes which whetted appetites for lunch.
Besides the pure food side of things, there was also a brief presentation from The Damien Mulley of FoodFight.ie and the Irish Blog Awards (bow down!) on blogging and its crossovers to traditional media, while Eoin Purcell, formerly of Mercier Press, spoke about taking a blog to a book, speaking with honesty about what he called the Irish "boutique" publishing industry.
Food stylist Erica Ryan and photographer Jocasta Clarke finished off the day with a fascinating – and intimidating – presentation on their jobs which, with all the talk of glycerin droplets and apertures had many of the audience (well, me anyway!) too intimidated to take out their cameras for the obligatory shots of the presenters. Of course, us being bloggers, during the rest of the day there were photos aplenty; of the pork loin wrestled about by Pat, Maire tossing noodles, the bread being mixed by Lorraine, and Jocasta Clarke putting shiny balls on psychedelic cupcakes. Cameras flashed right, left and centre at lunchtime to take pictures of the plates of roasted pork with roasted vegetables that we could barely eat for talking on all sides.
Informative and educational as the day was, it was also very much a day for meeting (well-known) strangers. Initial awkwardness only lasted as long as it took to start talking about the last blog post/twitter conversation as we realised how many connections we already had to each other.
It was a pleasure to catch up with Aoife from The Daily Spud again (check out her piece in The Irish Times' biodiversity supplement today) as well as an opportunity to meet Kristin from Dinner du Jour (watch out for herself and Kelly on the next MyKidsTime food newsletter) and the American representatives from AnAmericanInIreland and I Married An Irish Farmer. The day wasn't long enough to talk to everyone but it was a pleasure to meet the ladies and gentlemen behind CheapEats.ie, Smörgåsblog, Friendly Cottage, SupperSatisfaction, Mangos with Lime, Adventures in Veg and I Can Has Cook.
A huge thank you to the ladies – Maeve and Klara – at Bord Bia and Donal Skeehan for all the emailing, namebadging, tweeting and organising that happened in advance and on the day. Thanks also to Good4U whose sprouts and seeds were the perfect additions to a noodle salad on the bus home. Desert came courtesy of Lilly Higgins (a morish Macroom oatmeal ginger biscuit) and a fruit bowl from The Orchard Garden. Judging by the ever-increasing numbers on Donal's list of Irish food bloggers, we'll have to get a far bigger room next time!
(* with apologies to Stéphane Reynaud's Pork and Sons)