Un voyage à France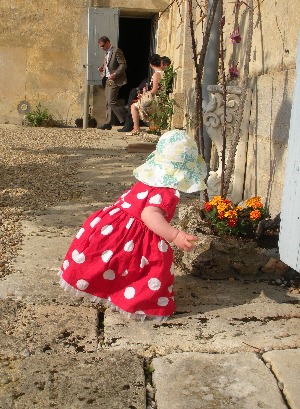 Just picture the scene: an ancient chateau set amidst vineyards in the heart of the Bordeaux countryside, guests from all over the world gathering together on the terrace to celebrate a wedding, May sunshine breaking through the clouds as the couple stand in front of friends and family. C'est tres romantique, non?
This was the idyllic setting for our friends' wedding last Saturday week at Château Lagorce. Just back at the cottage after days of travelling, the whole event still seems dream-like. The location was amazing, the French celebrant's memorable accent bringing to mind Rowan Atkinson's priest from Four Weddings and a Funeral and the continuous stream of pre-dinner canapés were extraordinary (earthy beetroot gazpacho, perfectly seared scallops, crunchy fried morsels of tête de veau or calves head). I, unfortunately, had to leave before  dinner was served – Little Missy decided that it was time for bed – but I did see plates beautifully cooked duck going past as we headed for home and heard tales of croquembouche (a French profiterole wedding cake) for afters.
We – suckers for punishment – decided to drive over so that we could camp but unfortunately the weather wasn't warm enough. Of course, we only found this out after a very disturbed night under canvas when LM decided to tell all our neighbours exactly how bloody cold it was at 3am. A move to a nearby hotel for the wedding and a subsequent stay in a cosy mobile home at an exceptionally good camp site near Saint-Émilion proved to be money well spent as we all got much more sleep. So the tent didn't get too much use this time round but at least it didn't take up too much space in the car and there was plenty available for wine loading on the way home. And that wasn't all we loaded. With whole aisles of cheese and chocolate in the hypermarches, I was in heaven. When the Husband unloaded the car I'm sure he wasn't surprised to discover stashes of chocolate bars, saucisson, camembert, cider, tins of duck and pork cassoulet, and bread tucked in amidst the clothes and sleeping bags!
A few recommendations: 
We travelled over on Irish Ferries' Oscar Wilde from Rosslare which is perfectly adequate although very slow (9.30pm departure, 5pm arrival the following day) but came home on the more comfortable Pont-Aven with Brittany Ferries, which delivered us straight to Cork after only 14 hours. It is slightly more expensive but the fact that it cuts down on travel time at sea and in Ireland and also serves better food and coffee makes it well worth the extra money.
Landing in Cherbourg and leaving from Roscoff (nice town, good for food) meant that the area around Rennes was a good place for stopping in each direction. On the way down we stayed at an Accor hotel on the outskirts of the city which was far nicer that its unpromising outside appearance. For the homeward journey, the bride's sister pointed us in the direction of the inexpensive and easy to find Logis Auberge Du Cheval Blanc in the picturesque town of Chateaugiron so we didn't have to do battle with Rennes traffic for a second time
We also took advantage of her research for places to stay after the wedding, ending up at the wonderful Domaine de La Barbanne. They have a range of campsites and well-equipped mobile accommodation options, it's 30 minutes walk to Saint-Émilion, has two free buses going each way from the campsite every day and there are plenty vineyards within 10 minutes walking distance. I'd go back there in a shot – if it didn't involve 7½ hours driving from Cherbourg in a car with a Little Missy.